Ta-Nehisi Coates discusses new book, roots of racism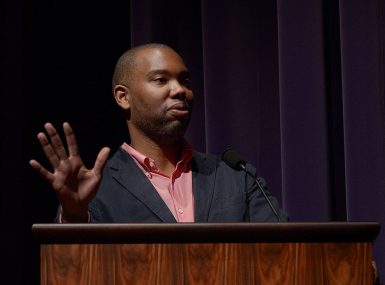 Fifteen years ago, Ta-Nehisi Coates had a job as a reporter and a newborn child when he read in the paper that police shot and killed a young black man in Prince George's County, Maryland.
Two days later, he flipped open the paper to see the picture of the victim, an old friend from college, staring back at him.
"And slowly, over the days and the months, it came up what had happened," Coates said of the moment in his life that created the spark for his novel, Between the World and Me.
Coates, author and journalist at The Atlantic, spoke to a crowd of nearly 1,500 Friday at the Musical Arts Center. As he talked about his new book, nominated for a National Book Award just two weeks ago, he discussed recent police shootings of young African American men, incarceration inequities and decades of oppression.
Between the World and Me is addressed to Coates' now-teenaged son. It recounts Coates' experience growing up as an African American in a country still grappling with institutionalized racism.
Learning of the death of his friend made Coates think about how such a thing could have happened – and his own place in a world where this could happen. He thought of his own fears growing up.
"This is the weight we live under," Coates said. "There is no level you can rise to where you can escape that type of fear."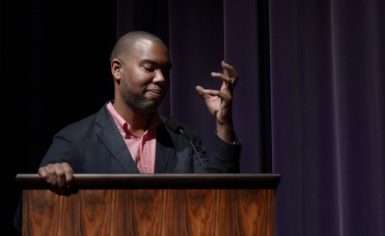 Coates was attending Howard University, a historically black institution, in the mid-90s when he met Prince Jones, whom Coates described as a "tall, beautiful man, built like a wide receiver."
"He was a Christian in the real sense," Coates said. "He actually took his faith seriously. They were not my values, but they inspired great respect from me."
Coates said that Jones' took his spirit from his mother, who was a self-made woman. The daughter of a sharecropper in the rural South, she moved north where she worked, attended university, became a radiologist and provided her children the things she never imagined growing up.
Coates dropped out of Howard University to pursue a career in journalism. Police killed Jones, who was still a student at Howard University, in September 2000 after police said Jones tried using his car as a weapon against the officers.
The undercover officers of the Prince George's County Police Department came upon Jones while searching for a suspect in an unrelated crime. The vehicle Jones was driving was registered in his mother's name. It was a gift, but the officers suspected it was stolen.
"I have a hard time believing if Prince were white and they had ran those plates, they wouldn't have done it," Coates said. "But because he was black, he became a suspect, too."
The officers trailed Jones out of their jurisdiction, through Washington, D.C., and into a Pennsylvania suburb, where they shot and killed Jones, in his fiancé's yard, after drawing guns, identifying themselves as police but not providing a badge as evidence.
"The horrifying thing for me is if I tried to imagine if I was driving to my fiancé's house," Coates said, "and I looked into my rear view mirror and saw I was being tailed by people who were trying to look like criminals.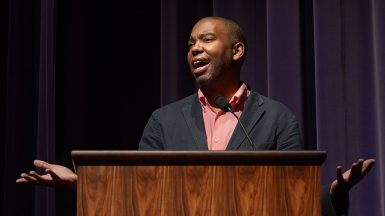 "Why should I believe you?" Coates said. "It is very easy for me to say, even assuming the officer's story, that I would've done the same thing and would've died exactly the same way."
Coates said when he read about Jones' death, he looked at his son, who was only a month old.
"I'd look at him and an entire feeling would come over me, because of how vulnerable I was," Coates said, "but also how vulnerable my child was, and there are things I couldn't protect him from."
Coates said it goes beyond allegations of police violence, which have been the focus of protests in high profile police shootings in the past several years.
"That's not where the devil is," Coates said. "The devil is in the details."
Details like the fact that Freddie Gray, a Baltimore man who died of spinal injuries while in police custody in a paddy wagon in April, had lead poisoning when he was a child due to living in low income housing that wasn't up to code.
"By the time you get to dragging him into the paddy wagon, you've lost," Coates said.
Coates said that racism in the United States can't be solved in almost any given time frame as long as the root causes like economics and exploitation aren't addressed, or if the history isn't recognized.
"You cannot escape history," Coates said. "If you think George Washington is important, then the fact that George Washington had slaves is important.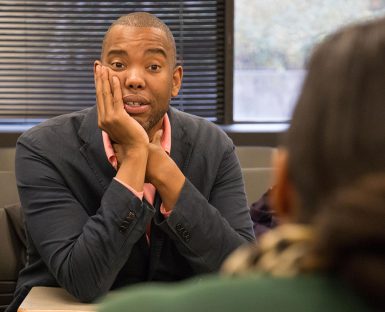 "One cannot be opportunistic about history," he added. "Patriotism can't just be scarfing down hot dogs and hamburgers on the Fourth of July."
Later in the day, Coates met with members of the IU student chapter of the National Association of Black Journalists to answer their questions about journalism and the state of race relations in the United States.
"It's events like this that make me proud to be a Hoosier," said senior Leah Johnson, president of the chapter. She said she fully expected Coates to be remembered by history as one of the great African American writers in American history.
"When he becomes that person, we can say we sat in a room with him," Johnson said.
Coates told the NABJ members that success in journalism is up to three things: Writing, reporting and reading. He said there's not some hidden knowledge to breaking into journalism except by reporting so much that you keep getting better at it.
"The most brilliant things you can learn in this career are what you learn in the field," Johnson said, agreeing with Coates.
Coates also met with students from many U.S. universities who were on campus for the Public Policy and International Affairs Program conference hosted by the School of Public and Environmental Affairs.
His public talk was sponsored by The Media School's Speaker Series, the School of Public and Environmental Affairs, the College Arts and Humanities Institute and the Office of the Vice President for Diversity, Equity and Multicultural Affairs.
More: