When you tune in for the big game Sunday, five Media School students, one staff member and one recent alumna will be among the many CBS employees and contractors bringing the broadcast to your TV.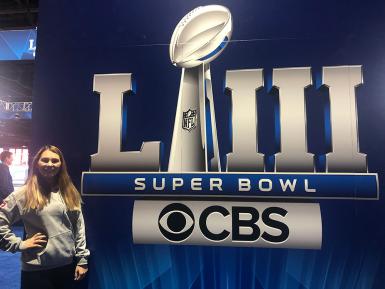 Senior Christian Luna, junior Lauren Bernstein, master's student Morgan Gard, junior Matthew Urasaki, senior Tyler Sorg and Kimberly Cozzolino, BA'18, are in Atlanta working as production runners for the CBS Super Bowl broadcast.
"The students will get to work alongside the professionals in every aspect of the media industry," said Jay Kincaid, Media School director of facilities and technology, who directs CBS coverage of the Super Bowl as a second job. "CBS will have everything from VR, to social media, to broadcasting the biggest game in sports."
The students' tasks range from driving talent around Atlanta to assisting with the broadcast behind-the-scenes. They've been there all week assisting with pre-game coverage.
"It takes an army of folks to make this happen, and the students are part of that army," he said.
Morgan Gard, a second-year master's student, has been aiding directors and producers, helping with talent, moving props and assembling sets.
"This whole experience has been eye-opening to what the world of TV is like," she said. "It's not like a studio where you can redo everything — it's live! So if you mess up, you have to cut your losses and move on."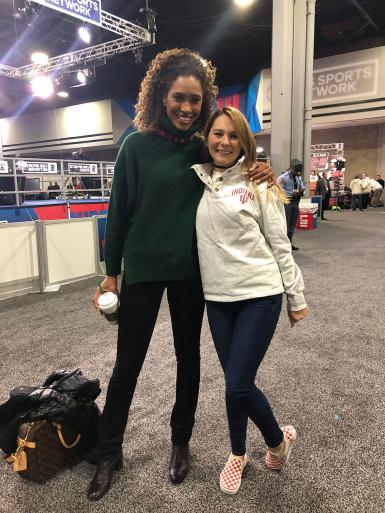 Before he left for Atlanta, Luna said he hoped the experience would give an insightful look at behind-the-scenes work in a professional setting and on such a massive scale.
"I myself am interested in the control room aspect of the broadcast, so I'll be trying to shadow workers in the remote broadcast truck like the audio engineers, playback coordinators and directors, observing their composure on this stage," he said.
The opportunity is also valuable for exposure, Luna added.
"This experience offers us an incredible opportunity to put ourselves out there on the biggest stage possible," he said. "It's going to be what we make of it, and I'm looking forward to taking advantage of the exposure that this will give me and all the other people involved."
Kincaid has worked for CBS for 10 years, and he knows the network always needs runners for major events. Two years ago, before coverage began of the Final Four in Phoenix, he asked if IU could provide four student runners to intern for CBS.
Students applied and were selected by Galen Clavio, associate professor and director of the National Sports Journalism Center. CBS pays the students, and The Media School provides scholarships to aid with travel costs.
"It gives the students exposure to remote television on a very large scale and to see how these large events come together," Kincaid said. "It gives them something to put on a resume and meet some awesome people along the way."
Kincaid said CBS has been pleased with IU student work so far, and he hopes similar opportunities can be offered in the future.