Students to travel to Mexico City to cover soccer team's spring break gateway trip
Four Media School students will travel to Mexico City next week with IU's men's soccer team to broadcast its games against the Cruz Azul U-20 team and the National Autonomous University of Mexico, or UNAM, home of IU's Mexico Gateway.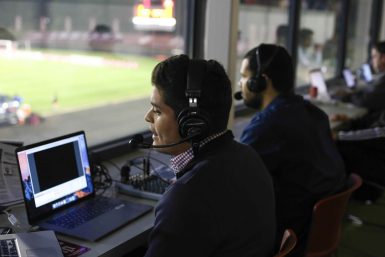 Seniors Joshua Eastern, Juan Diego Alvarado and Eddie Cotton, and junior Michael Ramirez will produce audio, video and written coverage about the games, as well as the team's cultural experiences throughout its spring break trip.
The trip is funded by The Media School's National Sports Journalism Center. Activities are organized by the gateway office, which opened last year. IU president Michael McRobbie will also travel to Mexico City, attending the UNAM game March 14.
"Since IU has opened their gateway to Mexico, this is an opportunity to integrate things for other roles by popularizing what the university can do," said associate professor and NSJC director Galen Clavio, who will lead the students on the trip. "You can go and cover this (from) different angles."
The students will post the content on Twitter and YouTube, and IU Athletics will further distribute it. Students will also post reports on the Media School website.
"The purpose is for every student to create a variety of media and exchange roles with one another," Clavio said.
When searching for students for this opportunity, Clavio looked for students with extensive experience in sports media who have worked alongside the soccer team in the past.
Eastern, who has covered the team for the past three years, said he's excited to see the players away from the soccer field, as travelers like himself.
"It will be neat to be with them from the moment they wake up to the moment they go to sleep," he said.
Apart from covering the matches, Eastern said he also looks forward to seeing how IU interacts with the other two teams, as well as the community — a cultural exchange they wouldn't experience in Bloomington.
"I kind of want to focus on stuff away from soccer," Eastern said. "I think we are going to a school, and they will be a doing a little training section with some younger kids and teaching them."
The students arrive in Mexico City on Friday. The first game, against the Cruz Azul U-20s, is March 12, and the UNAM game is March 14.