Students share their work at The Media School's Undergraduate Research Symposium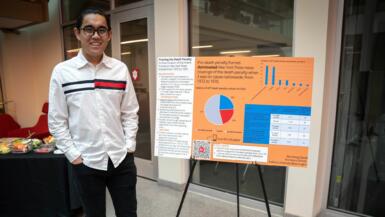 The Media School recognized several undergraduate students for their outstanding research scholarship completed in the 2022 calendar year. 
Nominated by faculty, students were invited to share their scholarship at the Undergraduate Research Symposium on April 5 in the Franklin Hall commons. The event gave nominees the opportunity to share their work with The Media School community via poster presentations in a formal setting. 
Interim Dean Walter Gantz, Associate Dean Radhika Parameswaran, and Director of Research and Creative Activity Nicole Martins were present at the event to congratulate students on their hard work. The attending nominees received a certificate of achievement and a gift basket.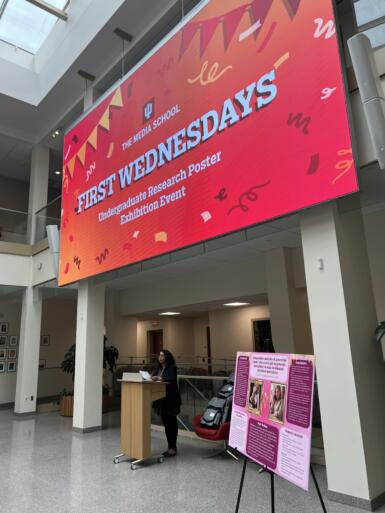 Congratulations to the following students: 
Associate p

rofessor Minjeong Kang

nominated Michaela Bruns for their paper, "PR Research Project for City of Bloomington's Housing and Neighborhood Development (HAND) Department"

 

Co-authors: Hayden Rivard, Jeffrey Alper, Maddy Massa, and Olivia Oliver

Professor Megan Connor

nominated Phee Hunter for their paper, "Montana,

Monsters

and Masculinity"

 

Professor Kathleen Johnston nominated Nic Napier for their paper, "Big Bucks, Big Buyouts"

 

Associate professor

Anthony Fargo nominated

Jack Paley for their paper, "The Problem with Watching Toys"

 

Assistant professor Lisa Lenoir nominated Sophie Piscitelli for their paper, "

Post Title IX Female Athletes and Media Portrayals: Have We Accomplished Anything at All?"

 




Assistant professor Lisa Lenoir nominated Bianca Pugliesi

for their paper, "Trump's "Make America Great Again" Hat: Dissecting its Meaning and Symbolism in Today's Political Climate"

 

Professor Mike Conway nominated

Jared Quigg for their paper, "What Men Wished to See: How the American Press Covered the Russian Revolution"

 

Professor Megan Connor nominated Eva Stuart for their paper, "How powerful women in male-driven narratives are written as hegemonically masculine in Succession and Yellowstone"

 

Professor Mike Conway nominated Wei Wang

for their paper, "Framing the Death Penalty: An Examination of Dominant Frames in New York Times Articles from 1972 to 1976"

 

Associate p

rofessor Minjeong Kang nominated

Lizzie Wright for their paper, "Prada: Multi-Channel Brand Communication Plan"

Co-authors: Halle Magruder, Ally Schmitt, and Rachel Waggoner

Jack Paley with their presentation "The Problem with Watching Toys" (The Media School | Jordan Venckus)

Michaela Bruns with their poster, "PR Research Project for City of Bloomington's Housing and Neighborhood Development (HAND) Department" (The Media School | Jordan Venckus)

Lizzie Wright with co-authors Halle Magruder, Ally Schmitt, and Rachel Waggoner presenting "Prada: Multi-Channel Brand Communication Plan" (The Media School | Jordan Venckus)