Students' reporting lands on front page of Indy Star
Media School students saw their story published on the front page of the Indianapolis Star.
Mary Claire Molloy, Hali Tauxe and Helen Rummel worked on the story "In conservative Martinsville, a mom has a plan to stamp out the CRT she sees in schools," in the fall's Depth Reporting and Editing (MSCH-J 401), Depth Photojournalism (MSCH-J 402) and Depth Multimedia (MSCH-J 404) classes, known collectively as "Words and Pictures."
As a group, the three journalists worked together throughout the fall to interview, investigate and learn more about what was happening in Martinsville.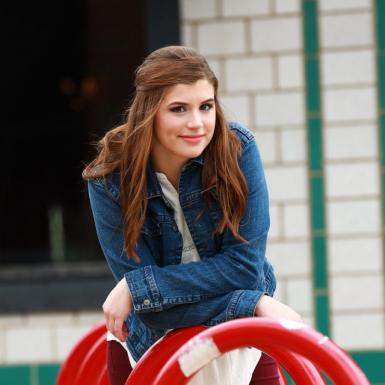 Molloy wrote the final piece, which focuses on how some Martinsville parents are attempting to exclude critical race theory from their children's K-12 education. Tauxe took photos and video and Rummel contributed to the story's multimedia.
Molloy said her professor, Tom French, told her that despite this story's difficulties it would be an opportunity to grow as a journalist.
"These are people's children and their education," Molloy said, "so it took a lot of thinking and edits and conversations with editors to really get it right."
The team spent over three months investigating and preparing the piece prior to its completion. On Sunday, Feb. 20th, they saw their work in print.
Molloy, a junior in the Media School, said the story's success is a credit to the strong collaborative effort of the team reporting.
"I really appreciated that as a group we could be all eyes and ears on our investigating because this story really couldn't have been done alone," Molloy said.
Tauxe, a senior, agreed that it was a challenging story to report.
"We had so much support from faculty and editors and those around us that we were able to tell a story like this," Tauxe said.