Students create 5-minute short films at annual Digital Cinema Academy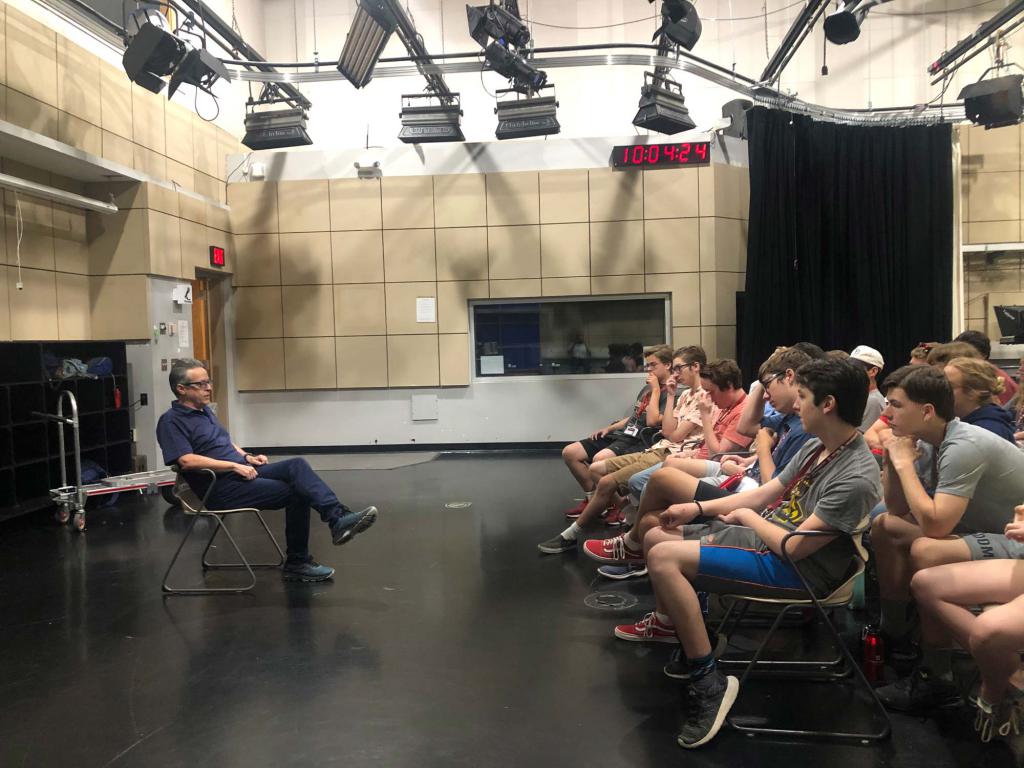 At The Media School's Digital Cinema Academy last week, camper Ella Carlson and her group wanted their short film to combine millennial humor with a popular 90s romantic comedy plot.
The group decided to recreate a plotline they call "the switch." Films like "Freaky Friday" (1976, 2003) and "Trading Places" (1984) are well-known examples. When Carlson and her groupmates were assigned the romantic comedy genre, they wanted to pick something that was simple to execute but impactful for the audience.
"We decided that the switch was the easiest way to produce a romcom, and it's very simple and we don't really need any props," she said.
Groupmate Dylan Gabbard said the humor of their film came from the ridiculousness of the characters' situation.
"Basically, it's about a couple who is struggling in their relationship. They're having a really hard time," he said. "It opens up with an argument between them and she says something like, 'I wish you could see things from my perspective,' and the next day he wakes up, and now he's her and she's him. So, they're going to try to figure out how to reverse that, how to get back in their original bodies, and throughout that little adventure they rekindle their love."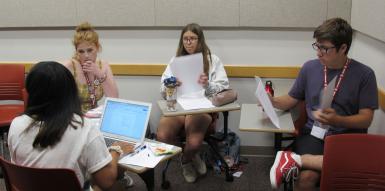 The romcom group was one of four teams, totaling 21 campers, that created films as part of last week's second annual summer filmmaking program for high school students. Using Media School equipment and facilities, the students had three days to complete the project, from writing their script to filming and editing the finished product.
The romcom group filmed in four different locations, including Wright Quad and the Rose Well House, which meant traversing campus with cameras, lighting and other equipment. Carlson said she anticipated that setting up shots in an outdoor setting would be the group's biggest challenge. She also said they were working on increasing on-screen tension between their characters.
In addition to creating their movie, students also attended workshops on camera mechanics and film theory, watched screenings of "Jaws" and "The Dark Knight Rises," and toured the facilities at IU's Radio-Television Building.
Earlier in the week, campers recreated a scene from "Jaws," which allowed them to learn about the equipment before making their short film. Carlson said the most challenging part of that exercise was aligning the actors and camera to mimic the original footage.
"It took a bit to set up," Gabbard agreed. "Kind of framing every shot, we had to do very particular things."
"I think toward the end, though, we started getting used to the camera and the lighting and adjusting," Carlson said.
Carlson has previous experience with filmmaking. Last summer, she attended The Media School's High School Journalism Institute's documentary session, where she learned interviewing and camera skills.
"I grew up with movies, and my dad works in the movie business, and my dream in life is to become a movie producer, and so I'm just following his footsteps and learning about the moviemaking process," she said.
She said the Digital Cinema Academy taught her about storytelling and how to plan for a scene, while HSJI taught her how to think on her toes.
On Friday afternoon, all four groups screened their films for friends and family at the program's closing ceremony.