Students' 20-part Twitter documentary tells volleyball team's rebuilding story
In a few years, when the IU volleyball team has developed and improved, it's playing in the future Wilkinson Hall and last year's 1-19 conference record is a distant memory, first-year head coach Steve Aird wants the players and their 15,200 Twitter followers to be able to look back on where they started.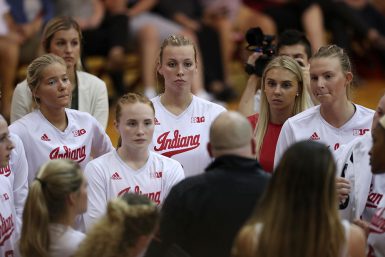 A 20-part documentary series produced by Media School students will make this possible. Ambition: The New IU documents the team's journey from the beginning of its rebuilding season in August — when it ceased being, as Aird said in the first episode, a "bottom-of-the-barrel Big Ten team" — through its final games. A new, five-minute episode is released on the team's Twitter account, @IndianaVB, each week.
"Why we are doing this is to be historically correct when I say to people, 'I think this thing is going to be really, really good in a few years, and the building is going to be great, and it's going to be a lot of fun,'" Aird said. "I think it's going to be fun to look back on, where it started, how it started and just knowing where it's headed."
Media School graduate student Morgan Gard, senior Zain Pyarali and sophomores Connor Hines and Austin Render are the crew behind Ambition. They got involved through The Media School's National Sports Journalism Center.
"The concept for Ambition began when I saw there was a void of people understanding what this program is and what it was, and I certainly wanted to paint the picture of where I thought it was going to go," Aird said.
Ambition: The New IU
Episode 1 pic.twitter.com/WQmCRTPeMW

— Indiana Volleyball (@IndianaVB) September 5, 2018
Aird's vision for the series was an IU volleyball version of the English Premiere League film Being: Liverpool and other documentaries that create an emotional connection between the sport and the athlete.
The four students serve different roles in the production. Gard is the videographer and attends all home and away games. Pyarali, head of the production, spends most of his time editing and reviewing footage of practice, player interviews, games and daily life. Hines and Render assist Gard and Pyarali with both videography and editing.
Pyarali said his favorite part of the project is putting the outside world and the game together to show the full player experience. Game and practice footage is interspersed with video of the team making pizza at Aird's house and a baby photo of Kendall Beerman in a pile of volleyballs.
"I hope the series sheds a positive light on Indiana's volleyball program and the new coaching staff," Pyarali said.
Gard has attended every game and spends copious hours with the women on both good and bad days. She wants to not only showcase the reactions to loses, the tough conversations and the discipline, but to also highlight every player on her journey. Gard has developed a bond with the women and has been able to witness their growth since the beginning of the season.
She was there for the freshman players' first day of college, Aird's son Padraic's third birthday and the time Bayli Lebo's family surprised her by showing up to a match in Las Vegas.
"I'm going to be sad when it's finished," Gard said. "I'm extremely grateful to work with the coaching staff."
Aird's goal with the series is to tell stories and document reality rather than force feed or manufacture a narrative. He wants to allow students, staff and families to understand the day-to-day operations of a program like IU's.
"I think people think that you're coaching players, but you're not coaching players. You are coaching people," Aird said. "It's about doing something that has never been done. That's what gets me out of bed in the mornings."
The series gives the team a voice and also serves as a recruiting tool. Aird said he hopes the inside look at the program will help convince prospective players that IU is the place for them.
The team plans to continue the series into next season.
More: