Student journalists and educators gather at HSJI, a tradition for 77 years
The High School Journalism Institute, a Media School precollege program, welcomed students and educators to the IU campus this summer to participate in a weeklong camp to experience hands-on workshops covering a wide array of journalism topics.
The two sessions of HSJI, the first held from July 10-14 and the second from July 16-20, offered day and overnight camp options, allowing students to spend the week staying in Spruce Hall and experience living and working on a real college campus. Students had time to explore the campus and the areas around it, such as Kirkwood Avenue.
HSJI gave students the opportunity to connect and learn from professionals in journalism, other student journalists, and award-winning advisers, including HSJI and IU alumni. Students registered for individual workshops where they spent the majority of the time working in smaller, concentrated groups and meeting occasionally with the entire group of HSJI students. Workshops included topics such as yearbook, reporting and writing, design, documentary filmmaking, introduction to photography, photojournalism, podcasting, sportscasting, 360 journalism, and a Leadership Academy.
Design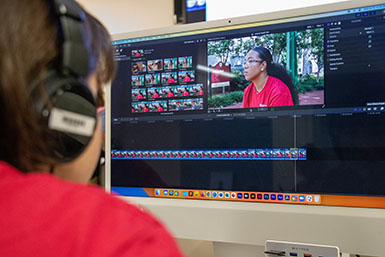 These workshops helped students gain specialized experience and guide them as they consider a career in journalism. Some workshops introduced students to the Adobe Creative Suite, including programs like InDesign and Photoshop. Introduction to photography and photojournalism developed students' camera skills and helped define ways to tell a story using photos.
Sportscasting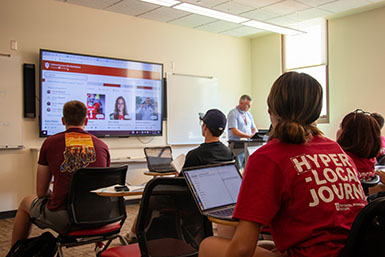 The sportscasting workshop gave students the opportunity to interview IU athletes and athletics staff and create stories around them. They were also able to explore and use the anchor desk in The Media School's Ken and Audrey Beckley Studio.
Podcasts
The podcasting workshop was a collaboration with the community radio station WFHB and its Youth Radio program. Students produced episodes of a real podcast that aired on 91.3FM and streamed on the station's website. They also learned how to design podcast components, conduct interviews in the studio and the field, edit audio for content and length, and produce finished episodes.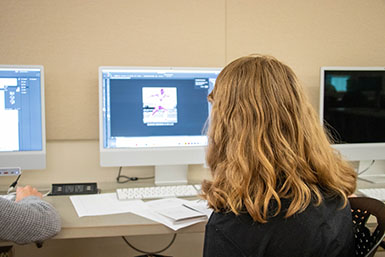 While much of the time was spent in small-group classes, there were some large-group lecturers and evening activities that granted students the opportunity to connect with one another and collectively learn from experts in the field of journalism. They gathered in the Franklin Hall commons for group lectures with professionals such as Media School Riley Endowed chair in journalism Thomas French, publisher of B Square Bulletin David Askins, Maurer School of Law's associate dean Steve Sanders, and many more.
The High School Journalism Institute wrapped up with an awards program at Wilkie Auditorium, where students could invite family and friends to watch as completion certificates, scholarship winners, contest winners, and lab awards were announced.