Student-created Hoosier Network lives on as 4 founders graduate
Four student journalists wanted a new outlet to produce sports media content.
After covering IU Athletics for the Indiana Daily Student, The Indianapolis Star, WIUX, IU Student Television and Big Ten Student U, they were looking for a space to try new things and give readers a new perspective on IU sports.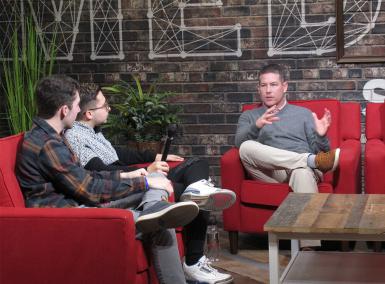 Eddie Cotton, Teddy Bailey, Josh Eastern and Zain Pyarali started The Hoosier Network — an online, student-run multimedia outlet that provides IU sports coverage — a year ago and have grown it into a network with 16 contributors, 4,500 Twitter followers and goals for the future.
Talks for creating the site began in October 2017. The four wanted to move on from other organizations they were a part of, said Cotton, a marketing and journalism major.
"We had our own ideas on how things should be done," he said.
They sought advice from people with experience. They met with Bryan Curtis, editor-at-large for The Ringer, when he visited campus in November 2017 and talked with him about the possibility of starting their site. They met with Media School web developer Alex Weiss Hills to talk publishing platforms. And they leaned on associate professor Galen Clavio for guidance along the way.
It was a process that took longer than they initially anticipated, but in January 2018, they finally launched. Since then, they've expanded their coverage to include as many IU teams as possible and found themselves in a position to hire younger reporters.
"We wanted to provide content that people actually wanted," Cotton said. "We ran with that idea."
That content includes the "IU Storyteller Series," an ongoing video series where a reporter interviews a player one-on-one. It includes podcasts, including the general sports shows "The Flagship," "The Other Guys" and "The Benchwarmers," and shows dedicated to analysis of baseball, softball, men's and women's basketball, football and men's soccer.
Cotton said he wants reporters to try whatever they want.
"We only have one rule," Cotton said. "If it's good, we'll post it."
For the founders, creating a site was about having a place to work on their own. They are able to try new ideas in a way they didn't feel they could anywhere else on campus, Cotton said.
"You have four years to learn as much as possible," said Pyarali, who graduated with a media major in December. "We provide all of that opportunity."
The Hoosier Network prioritizes more than just basketball, football and baseball, said Eastern, a media major. Reporters traveled to Santa Barbara, California, to cover the men's soccer team in the NCAA College Cup semifinals this past season. The site even provides season-long coverage of the Little 500.
The site emphasizes analysis, said Bailey, an international studies major. There's more than just a regurgitation of a box score.
"We don't want people reading everything everyone already knew," Bailey said. "We want to offer some insight, something you don't always get."
Bailey said the seniors approached their final year covering IU Athletics with a "Why not?" mindset.
"From the beginning, we've always done something slightly different from a recap," Cotton said. "We've continued to push further and further."
As the founders look toward graduation, they hope to see the site live on. They've passed on a lot of knowledge about the site to the new contributors, and they're confident they'll be able to continue after the seniors are gone, Pyarali said.
"It'll definitely be a transition, but I think they'll figure it out," Bailey said.
Future goals include monetization of the site. Right now, its modest Google Ads revenue is reinvested into travel costs. The seniors hope that next year, the team can find a way to maximize revenue opportunities.
Looking back on the last year, none of the founders expected the site to grow as much as it did.
"We were able to leave a little bit of a legacy," Cotton said. "We made an impact we didn't expect."