Student-created app facilitates location-based, virtual 'shmoozing'
Media School sophomore Jake Bohrer was on a New York City subway when he found himself without a good way to communicate with the people physically closest to him.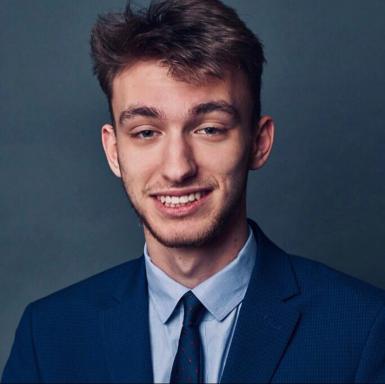 As often happens in NYC subways, a disruption had broken out in the car, this time in the form of a passenger loudly heckling and verbally harassing other commuters. Many people in the area were visibly concerned, Bohrer said.
"In that situation you're afraid to speak out loud to someone because you don't want this guy to turn his attention to you," Bohrer said. "So I thought, what if I could communicate with everyone around me without being heard or speaking out loud?"
That idea became the basis for an app, Shmooz, that lets users communicate in location-based chat rooms. And while the train situation is in the past, Bohrer and his business partners — Kelley School of Business student Aaron Levine and Tulane University student Jesse Abed — think it's the right app for the times.
"It's a good platform for where we're at right now as a society with COVID," Levine said. "Somebody might not feel comfortable tapping somebody on a shoulder at a bar or in Wells, but they might feel more comfortable communicating with them at first over this platform."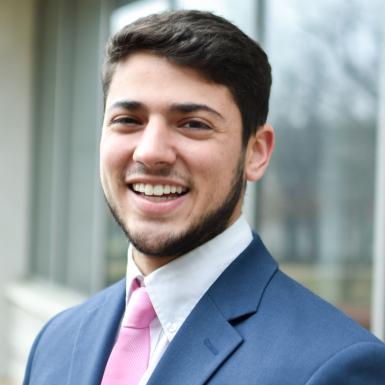 In the early days of the pandemic, Bohrer had gone home to New York City, then the epicenter of the COVID-19 outbreak in the U.S. His classes were all online, the city was locked down, and it wasn't safe to go out or see friends, so Bohrer started thinking more about his idea. He realized that a means to communicate with any smartphone users in one's immediate vicinity could be more than just a safety tool — it could be a powerful mechanism for meeting and communicating in a range of contexts: at bars, restaurants, sports games, school libraries, apartment complexes and more.
So Bohrer set to work making the app — then unnamed — a reality: He hired a developer and lawyers, and brainstormed nonstop with his partners. Slowly, Shmooz took shape.
The name Shmooz comes from the Yiddish word schmooze (or shmooze), which means to speak casually. Bohrer, Levine and Abed, all Jewish and from families where parents casually speak a bit of Yiddish around the house, knew they wanted a name for the app that was clever and succinct. Something memorable that lets the user know exactly what function is being served.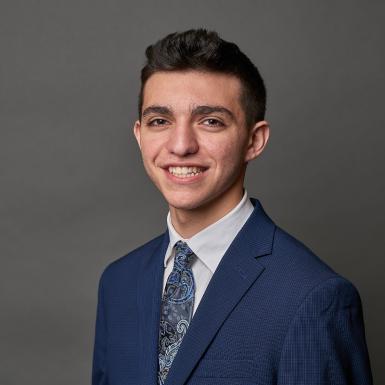 The trio spent days on FaceTime together, trying out different words to find the right one. They floated the ideas of "texter" and "communicate," and eventually considered words in other languages. But the second Abed blurted out his idea, they knew the name would stick: Shmooz.
The app is set to launch later this month, when anyone — especially Bloomingtonians, the team's initial target audience — can download it and start Shmoozing. The Shmooz interface has five tabs: a feed where users can see current, nearby and favorite chats; a map that displays all of the available chat locations in the app; a search tab to find users and chats; a notifications section for likes, comments and friend requests; and a profile for photos, a bio and friends.
Users can enter any chats within a .2-mile radius of their location. The Shmooz map uses Google Maps via an API key, so any location that can be searched and found on Google Maps can become the site of a chat. For legal reasons, Shmooz chats are user-created, but Levine, Abed, Bohrer, their now-expanded body of team members and a select few beta testers have worked to populate the area with chats that will be available when the general public has access to the app.
As development and marketing of the app continued, Levine, Bohrer and Abed brought in more people to help with planning its rollout. Bohrer, the app's co-founder and CEO, handles administrative business. Abed, also a co-founder and co-CEO, works with developers and attorneys, manages finances and deals with the platform's IP. Levine, Shmooz's COO, deals with operations and data, and organizes the business side of the app — speaking with attorneys and making cost, customer acquisition and user/interaction projections.
The app also has ambassadors, who have been working around campus the past few weeks to get the word out about Shmooz.
Bohrer said a lot of the team's tactics for marketing Shmooz have been shaped and influenced by what he's learned in Media School classes. As a media advertising student, some of Bohrer's favorite classes have helped him dive into and dissect advertising campaigns to learn their tactics and to observe what fell short and needed changing.
"You really learn about how to approach an audience, how to connect to that viewer through different methods," Bohrer said.
All of that knowledge has helped him tremendously so far, he said, in working with designers to make the app's layout user-friendly and aesthetically pleasing, and to plan its pre-rollout guerilla marketing tactics.
For now, Levine says the app might help users communicate socially when face-to-face communications are a no-go. But he and Bohrer can't help but look forward to seeing how it's used down the road, when it's safe to socialize and gather in person, en masse, again.