Student Cinema Guild's 'The Pattersons' selected for film festivals
Black screen. Climatic music swells.
Text: A SCG Motion Picture. Copyright MXVII by SCG LLC.
A framed family photo appears, featuring two parents and two children.
The family sits at a dinner table. The girl seems flustered.
Accompaniment leans toward horror genre.
Closeup of the mother with a black eye wearing pearls.
A dark concrete hallway with tally marks scratched onto it is seen.
Closeup of father's scarred skin.
Heavy breathes and sharp music play.
The daughter runs up stairs.
The son looks to the camera with a black eye.
She opens the door.
A knife spins on a dark table,
The kitchen appears in darkness with a flashlight being shown through the window.
Feet climb the stairs.
Closeups of the family at dinner,.
The daughter opens a door.
Black screen.
Text: "The Pattersons." A SCG Motion Picture. Copyright MXVII by SCG LLC.
A film directed by Media School student Jordan Iobbi, BA'22, written by senior Sam Wichhart and co-produced by the Student Cinema Guild and IU will be featured at three film festivals.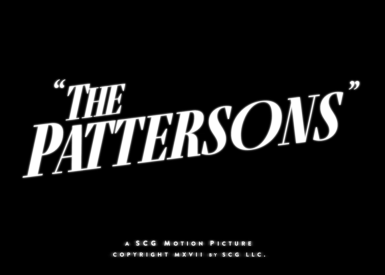 The film has been officially selected by the New York Lift-Off Film Network, the Victory International Film Festival and the Chicago Horror Film Festival.
Each year, the club does a major production of a selected student script. The film "The Pattersons" follows a disoriented girl who wakes up in the middle of a television show as she navigates her way through the episode in order to escape while avoiding the omnipresent cameras that stalk her and her "family."
The short film is classified as thriller, drama and horror.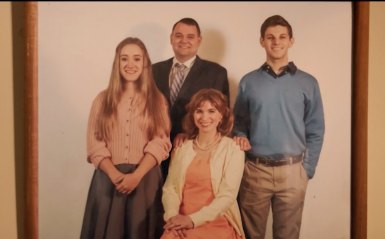 Credits:
Jordan Iobbi, d

irector
Sam Wichhart, writer, producer, director of photography
Madelyn Knight, producer
Sammi Gee, producer
Alyssa Woolard, producer
Max Weger, producer
Isabella Bonanno, key cast: "Marie"
Pete Law, key cast: "Todd"
Noah Marcus, key cast: "Steven"
Brandie, key cast: "Julie"
Max Pattison, key cast: "Steven 2"
Maya McQueen, key cast: "Marie 2"
Melanie Taylor, set designer
Austin Schmidt, camera operator
Emma Rodes, costume designer
Samantha Kaufman, stunt coordinator
Jacqueline Preston, hair and makeup
Jack Fahey, sound design/mixing
Han-Wei Hsing, sound design/mixing
Bianca Desai, assistant director
Carter Burkhart, second assistant director
Maeve Panich, assistant editor
Brody McFadden, first assistant camera
Claire Austin, script supervisor
Eve Elliot, sound recordist
Katie Parker, gaffer
Brandon Dananay, key grip
Maeve Panich, BTS Photography
Rama Sardar, production assistant
Nick Johnson, production assistant
Max Pattison, production assistant
Lauren Davis, production assistant
Caroline Parks, production assistant
Divyam Arora, production assistant
Avantika Vedam, production assistant
Munu Adnan, assistant writer
Natalie Wells, assistant writer
Rama Sardar, assistant writer
Veronica Rooney, assistant writer
Maeve Panich, assistant writer
Kate Feinberg, assistant writer
Bianca Desai, assistant writer
Jacqueline Preston, assistant writer
Jared Cohen, assistant writer