Stoeltje named interim BFCA director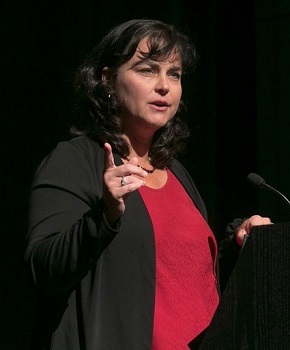 IU Libraries Moving Image Archive founder and director Rachael Stoeltje will serve as the interim director of the Black Film Center & Archive beginning Aug. 1.
She will continue to serve as IULMIA director during her yearlong BFCA appointment.
The BFCA, part of The Media School, is dedicated to collecting, preserving and making available historically and culturally significant films by and about Black people. The center houses hundreds of thousands of hours of films, ranging from forgotten documentaries to blockbuster movies, as well as posters and other printed creative materials.
Stoeltje has worked for nearly two decades preserving access to IU's film collections. In 2021, she concluded her role as the director of IU's mass film digitization project, resulting in 23,803 digitized film reels. She teaches classes and workshops, and trains students to ensure that incoming archivists preserve and protect films and moving image collections long into the future. She developed a Luddy School of Informatics, Computing and Engineering course, Introduction to Moving Image Preservation, which she teaches every spring.
She serves as president of the Association of Moving Image Archivists and has been an executive committee member of the International Federation of Film Archives.
Media School associate professor Akinwumi Adesokan has served as interim director since Jan. 1.