Steele recounts obstacles in path of becoming host of ESPN's top shows
By Lena Morris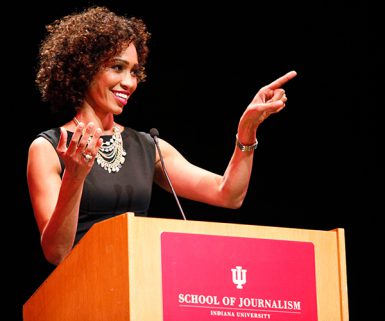 At 12, Sage Steele announced to her family that her career goal was to host ESPN's show, SportsCenter, even though women rarely hosted anything sports-related, much less worked on ESPN, at that time.
Almost 30 years later, Steele, BS'95, told the crowd at the Buskirk-Chumley Theater Monday evening about her journey overcoming that stigma and her own struggles, a path that did, indeed, lead to that very job as well as her newest position as host of ESPN's NBA Countdown.
"I knew I wanted to do it because I loved sports," said Steele, who was on campus as a guest of the school's Speaker Series. "I thought that since I realistically wouldn't play sports past high school, the next best thing would be to talk about it."
In an industry plagued with discrimination against women, Steele said she had a lot of obstacles to overcome in pursuing her dream. Not only were women a novelty in sports broadcasting in the '90s, she said felt she often was disrespected by her peers, even those who had seemed supportive.
"We've come a long way, but at the end of the day, there are still bullies who think girls shouldn't be doing it," she said of sports broadcasting.
Steele's first experience with discrimination occurred long before she faced it as a female sports broadcaster. An "Army brat," Steele said she had attended schools and traveled all over the world with her family before moving to Indiana when she was in high school. There, she said she was introduced to racial prejudice for the first time. She had to learn how to turn negativity into motivation.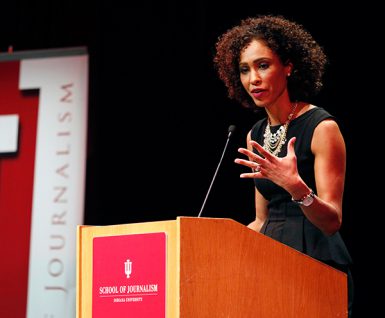 "What I realized was that this was one of many tests along the way, some having to do with race and some that don't," she said. "It was preparing me for the future in the television world."
But nothing prepared her for the rigor of the test-oriented college courses. Steele said she struggled academically during her time at IU, including being put on academic probation. At one point, the dean of the then-School of Health, Physical Education and Recreation, where she was studying sports communication, called her to tell her she was in danger of flunking out.
Steele said test-taking was her downfall, in both her classes and in ROTC, where she didn't make the cut because her test was 10 points short.
The support of her family and professors who gave her second chances, and her will to go the extra mile to prove herself, resulted in her earning her degree, she said.
Despite the many bullies — real and intangible — she faced, other people helped pave her way to success, she said. For example, while working at Colorado Steakhouse, she met Bill Armstrong, then-president of IU Foundation, who offered her an internship at IU Athletics and helped her get a grant to pay for her final semester at IU.
The lesson went far beyond someone opening the door to opportunity, she said.
"If you take the time with people, it can go a really long way," Steele said. "He took the time with me, and it changed the trajectory of my life."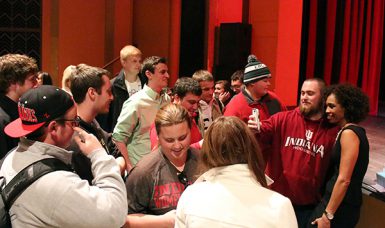 Steele continued to struggle through jobs at small and larger market TV stations, where she covered sports, from college basketball to football to the Indianapolis 500. Most of her first jobs paid little, and she said she resisted asking her parents for help. She wanted to do it on her own.
A low point was asking for a $2,000 raise and hearing her boss say she "wasn't worth" the additional money. Steele said she sank for a bit, then hired an agent to help her negotiate her next job, which was twice the pay and in a bigger market.
She said the wise way to cope is not to react, but to move on to bigger and better things.
"Be the bigger person," she said of the lesson she learned from the boss who didn't think she'd earned a raise. "Go in there, shake his hand, thank him for the opportunity, and walk out with your head held high knowing that you won."
Jae Taft, a sophomore at Center Grove High School who came to Bloomington with her mother to attend Steele's talk, said learning about Steele's success despite obstacles made her realize that anything is possible.
"I learned to never give up and stick to your will," she said after the talk. "If you have a dream and it's as big as you want it, you're not going to let negativity get in your way."
Taft, who also hopes to work in the sports industry, said Steele's words of encouragement for women made her feel more confident despite the expected hardships.
"She inspires me to be myself and keep pursuing my dream no matter how hard it gets," she said.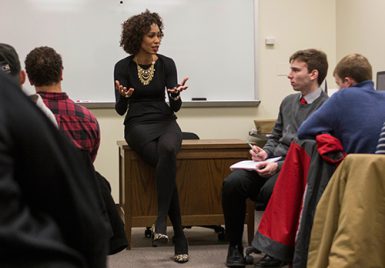 After her promotion to NBA Countdown in October, Steele began commuting weekly from her home, husband and three children in Connecticut to Los Angeles, where the show is broadcast. She said her life is busy, but she knows where her priorities are.
That's one reason she makes time for her alma mater, she explained. Earlier in the day, Steele spent time with the IU chapter of the National Association of Black Journalists, answered questions in two journalism classes, had lunch with students at the Hutton Honors College, and dined with students and faculty.
"I wouldn't be here without this school, without the people who took the chance," she said. "IU will always be the most special place on earth for this Army brat who went to Greece, the Acropolis, Paris, and came back to Bloomington to call it home."
The school's Speaker Series brings notable journalists to campus for lectures that are free and open to the public. The next speaker is Sonia Nazario, author of Enrique's Journey, who will talk at 7 p.m. April 16 a the Buskirk-Chumley Theater.