Sports broadcasters share experiences, good and bad, with students
Tricia Whitaker didn't know what she wanted in a career until she was a sophomore in college. Until then, all she knew was that she liked basketball.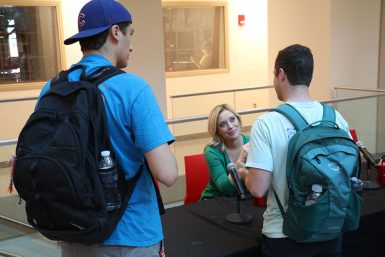 Whitaker, BA'12, now a sports reporter with CBS4 and FOX59, was one of four Indianapolis-area sports broadcasters who visited The Media School on Oct. 2 to talk to students about their careers. Whitaker; Jeremiah Johnson, host/sideline reporter for Indiana Pacers/Fox Sports Indiana; Katie Hargitt, reporter for Verizon IndyCar Series and NBCSN; and Meghan McKeown, sports reporter for WISH-TV and MyINDY-TV, shared a range of experiences with the students and gave advice on what to do now to prepare themselves for careers in sports broadcasting.
While their journeys in the industry differ, they all share a passion for their career.
"I want to tell stories and be around sports, and that's how this dream of this industry began," McKeown said.
The opportunity to watch history unfold at major sporting events such as the Super Bowl and the Indianapolis 500 makes the job rewarding, the panelists said. But there are drawbacks.
Hargitt has missed her best friends' weddings and has spent holidays away from family. Still, she appreciates her job.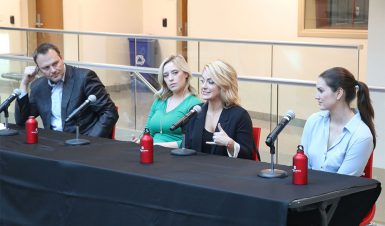 "I live my dream every single day," Hargitt said. "You don't take it for granted anymore."
The four sports broadcasters advised students to learn how to adapt to an industry that is continuously changing. Right now, that means a good TV broadcaster will know how to podcast and maximize social media, in addition to the traditional tasks of the job.
College students can start preparing for their broadcasting careers by getting as much experience as possible, Whitaker said. This means using skills and clips they've gained from Media School classes to apply for internships.
"These are just small pieces of the puzzle that eventually gets put together," Johnson said.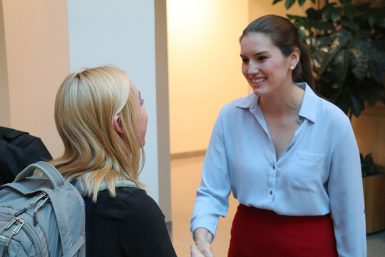 McKeown advised sports broadcasting students to consider pursuing internships in smaller markets because the stations often allow interns to go on air and shoot packages. She said internships should be a priority for aspiring broadcasters.
After 11 years in racecar driving, Hargitt made the decision to go to college rather than pursue the sport professionally. She knew she needed to put in work to get where she wanted. So she visited TV stations and contacted sports directors to ask them to review her reel.
The panelists emphasized the importance of leaving each opportunity with a good reputation.
"Be kind to everyone. Be someone everyone wants to work with," Hargitt said. "Your reputation will lead you."
More: