Skift founder Ali: Editorial focus still key in modern media business strategy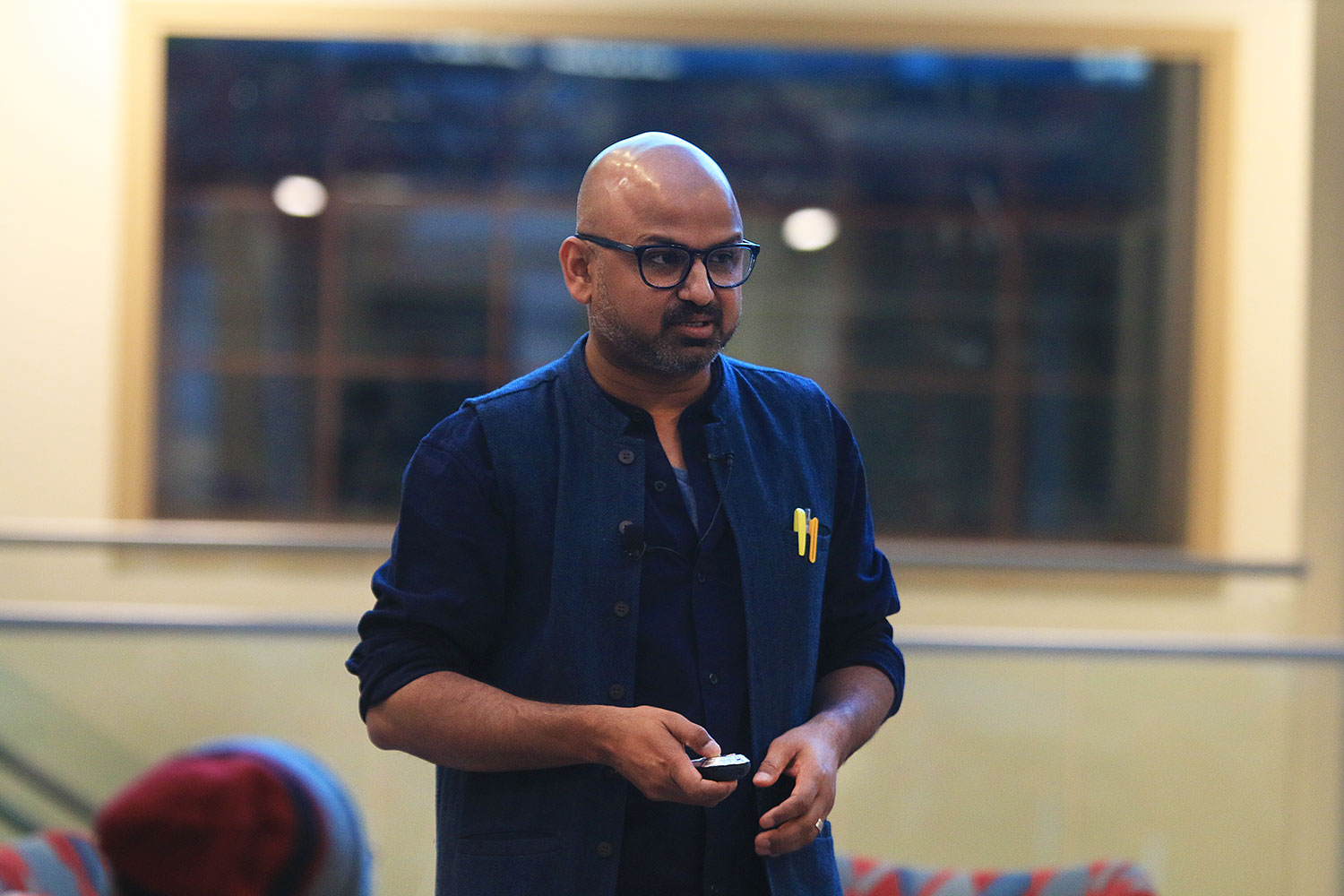 Media is a game of persistence, and it's not easy, Skift founder and CEO Rafat Ali, MA'01, said Monday.
"It's going to be the hardest thing you do in your life, but the other end is pretty good," he said.
Ali kicked off The Media School's spring Speaker Series by sharing advice he's learned throughout his career. His talk, "Lessons From 15 Years of Building Digital Media Companies," covered everything from staying patient to the importance of storytelling in changing the world.
Ali graduated from IU in 2001 with a master's degree in journalism. He became a managing editor at the Silicon Alley Reporter and later established paidContent, a site that covered digital content's effect on media industries.
After traveling for two years, Ali and co-founder Jason Clampet established Skift — a company that now employs about 60 people in offices across the world. The business intelligence and marketing platform in travel provides news, information, data and services to the travel industry.
"Think of us as the Bloomberg of travel," Ali said.
Ali shared 12 lessons he's learned about life and careers in media.
"All those things you hear about media jobs going away, Rafat is here to tell you that's not true," professor of practice Elaine Monaghan said in her introduction.
Ali advised students to expand their worldview. It defines how big your vision is, he said. Throughout his two years of travel before starting Skift, he said he could see his mind expand.
"While I'm a big fan of people having specializations as they enter into the world of media, I'm also a big fan of having a giant worldview," Ali said.
Having this large worldview can help when it comes to a career in media, Ali added. He encouraged audience members not to get swept up in day-to-day headlines and to build a media company around larger trend lines.
It's easy to focus on churning out stories every day, but it's also important to look at the world with a multi-year narrative arc, he said.
Ali stressed the importance of an editorial focus when building a media company. Companies don't refer to themselves as editorial companies anymore, Ali said, but Skift focuses primarily on the quality of its editorial content.
"As long as we can create amazing editorial, I can create a business out of it," Ali said.
Media is the simplest business, he said. You find a topic, you continuously report on it, and you find a way to ask for money for it.
The quality of your editorial content and the value you can bring to your users will be what keeps the media industry going, Ali said
"There's no outside savior coming to rescue media," Ali said. "It's all you."
A video of the talk is archived on Ali's Twitter feed.
New York Times reporter Maggie Haberman will continue the spring Speaker Series at 5:30 p.m. March 18 at the Buskirk-Chumley Theater.