Silvestri wins Kinsey archival fellowship
Doctoral student Anthony Silvestri has been awarded a fellowship to develop a finding aid to catalogue the Kinsey Institute's Kenneth Anger Mixed Media Collections.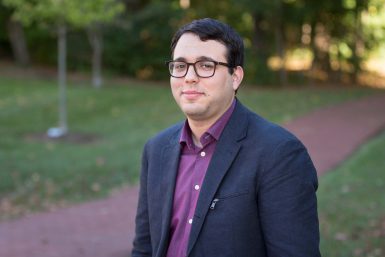 The John Money Fellowship for Scholars of Sexology awards $3,000 to graduate students across the country whose research would benefit from use of Kinsey Institute resources. Fellows are expected to contribute to the organization, preservation and/or accessibility of Kinsey collections.
Silvestri has used the collection in his research on the experimental filmmaker, who began sending materials to the institute as a paid buyer after becoming friends with Alfred Kinsey in the 1950s. The collection includes 20 boxes of newspaper and magazine clippings spread across two decades, art donations, various books, photographs and audiovisual materials across several mediums, as well as more unexpected items such as sex shop pamphlets, signs collected off Sunset Boulevard and a photo block of a plant from New Zealand.
Silvestri's finding aid will assist future researchers, as well as facilitate an understanding of the artifacts' significance.