Shah explores the science and history of migration in animals, plants, and humans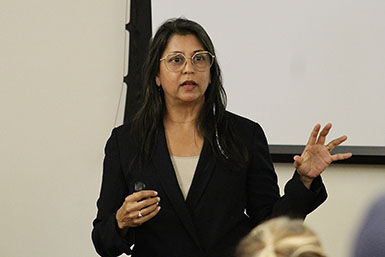 Science journalist, prize-winning author, and Roy W. Howard speaker Sonia Shah presented "Science Journalism in a Moving World" at The Media School on Wednesday, discussing her research and the work she conducted for her latest book, "The Next Great Migration: The Beauty and Terror of Life on the Move," published in 2020.
In the book, Shah explores centuries-long assumptions about human and animal migration, addressing the critical role of truth when it comes to the science, history, and reporting of migration. The book was selected as a best nonfiction book of 2020 by Publishers Weekly, a best science book of 2020 by Amazon, a best science and technology book of 2020 by Library Journal, and a Tata Literature Live! finalist for the best book of the year.
Shah's presentation covered the perception of migration as a crisis in the modern day, as well as its history in both humans and animals. She also discussed the role of climate change in migration processes.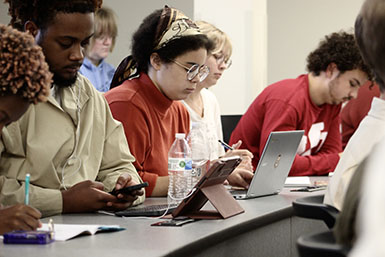 "If we want to preserve biodiversity in the future, we need to make sure these species can move to new places," Shah said.
Understanding migration would help to understand the climate impacts on animals, too. Eighty percent of species are moving, and that is what Shah calls "The Next Great Migration." She says it is imperative that humans assist in that process in order for these species to survive. The same can be said about human populations.
Her research began when she was tasked with writing two articles about the current immigration situation of dislocated people on the move. It wasn't until she began to speak with migrants that she realized the situation was different than she thought.
She took a trip to Athens, Greece, to visit a camp where many Afghan migrants were staying. When she asked some of the people there about the migration crisis, she received a response that surprised her: there was no migration crisis.
"I had conflated migration with crisis," Shah said. "This began a journey. Why did I do that?"
She explained that part of the reason was because of the claims circulating in political media. News stories and anti-immigration leaders claimed that migrants brought diseases, caused more crime in areas, were economic burdens, and that they couldn't assimilate into society. As Shah revisited the studies used as evidence for these claims, she found a few things to note.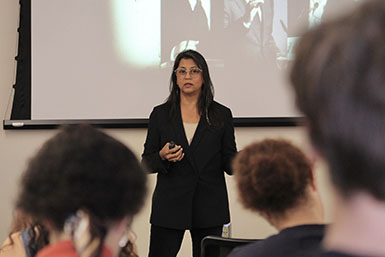 She found that migrants were usually healthy, sometimes more than the hosts of the countries they were going to. Studies that claimed migrants increased crime rate included migration as a crime. While migrants initially cost the United States economy around $57 billion from 2011-2013, their children added a net benefit of $30 billion, and their grandchildren added $223.8 billion. Shah also found studies showing that migrants could assimilate within a generation of moving.
"The argument is not that it's (migration) not disruptive. It is disruptive. But that's not the same thing as a crisis," Shah said.
She explored how deeply migration was rooted in humanity, looking at how Carl Linnaeus, the "father of taxonomy," influenced the perception of migration today. His system for naming, ranking, and classifying organisms is still used widely, but he considered humans to be genetically different groups based on the continent they lived on—something that is now proven to be false.
Shah explained this has influenced the modern ideology that people belong in the place they "came from." However, humans have belonged to many parts of the world, and migration was a big part of that.
"When we say camels belong in the Middle East, that's just a social construction," Shah said. "We can say the same for humans."
Shah expressed a need to shift the perception of migration in the public eye.
"Instead of building bridges, we are building walls and fences. It's like tossing a rock into a stream. It doesn't stop the water. It just flows around it," Shah said.
She explained that with each wall built to keep migrants out, it only makes the path more dangerous. It doesn't mean that people will stop migrating.
"We're talking about people who got two bags and walked out with their kids—everything. You think they don't have resilience and resources?" she said.
Shah concluded with the suggestion that people facilitate migration on all grounds, for that would be the only way to persevere. She said that if humans were to preserve their own resilience, they needed to pave the way for migration and stop to consider what it truly is.
"Migration is not a crisis. It's a solution," she said.
Shah has also worked in research on pandemics, and she has authored "Pandemic: Tracking Contagions from Cholera to Coronaviruses and Beyond" and "The Fever: How Malaria Has Ruled Humankind for 500,000 Years." She writes extensively on science, politics, and human-animal relations.
This lecture was co-sponsored by The Media School and the Themester program from the College of Arts and Sciences.