Second national spelling bee appearance provides lesson in working toward goals
Daniel Larsen, who traveled all the way to Washington, D.C., to compete in the Scripps National Spelling Bee, advanced to the competition's third round before spelling out.
He tied with six other competitors for the top score in the first round — a written vocabulary test — and survived the second round by correctly spelling "macumba" before misspelling "Niagara." He was not the only speller to be tripped up in that round, as others went out on tricky words like "gentilitial" and "circuitous."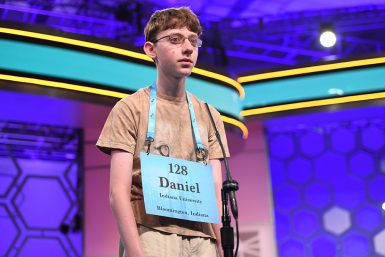 Larsen's trip to the bee was sponsored by The Media School and the School of Education, who also sponsored the regional bee, known as the IU Bee, in February.
Larsen, who will be an high school freshman in the fall, went to the national bee last year, too, but did not make it to the finals because of his written test score.
Larsen said his favorite part of the bee was learning how well he'd scored on the vocabulary test, especially after last year's letdown. His mom, Ayelet Lindenstrauss, said she his high test score eased the blow of misspelling his third-round word.
Larsen said competing in the bee was less daunting his second year.
"This year, it's still exciting, but I knew what to expect," he said. "It's not all new things."
Lindenstrauss said it was no less stressful for her, despite how excited she was for him.
"We were very happy for him that he got to go, and it was very exciting, but being there in the audience when he's spelling is very stressful," she said.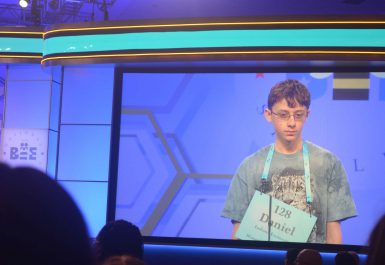 Lindenstrauss said Larsen worked incredibly hard to prepare for the national bee this year. He scoured websites for lists of words to study and even made lists of his own. Additionally, he made use of resources offered by the bee for spellers to prepare for the competition. Most of that, she said, he did independently.
Larsen said he first became interested in spelling bees in the sixth grade when he spelled out of his school bee in a frustrating way.
"After that, I wanted to work harder and do better," he said.
Larsen showed a talent with words at a young age, Lindenstrauss said. He used to write what she called "magic squares": three-by-three grids of letters in which every row and every column spelled out a word.
She said he's also a whiz at crossword puzzles, which he likes to teach others to do.
At age 13, Larsen became the youngest person ever to publish a crossword puzzle in The New York Times.
Even though he's done with spelling bees now, Larsen said he's learned valuable skills that will continue to grow with him – plus many new words.
He said the experience was also a valuable lesson in working toward lofty goals for long periods of time.
"That might be more valuable, even, than all the words I've learned," he said.
More: