Schwibs wins regional Emmy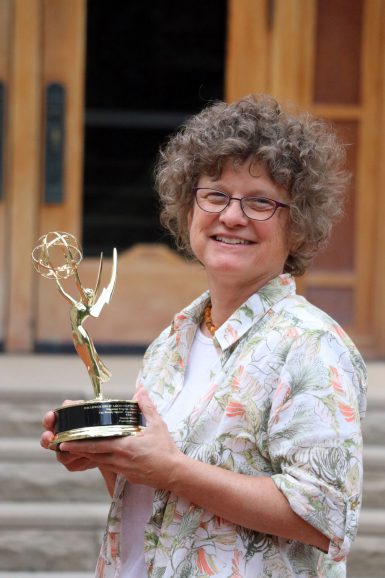 Senior lecturer Susanne Schwibs is the winner of a regional Emmy, presented June 17 in Cleveland, Ohio, for producing/directing Expressions: Daren Redman, a feature segment about fiber artist Daren Redman.
The segment was made for The Weekly Special, a magazine program produced by public TV station WTIU, based on the Bloomington campus. The award was in the Magazine Program – Feature/Segment category.
 Schwibs also was nominated in two categories, Historical/Cultural Program or Special and Director – Non-Live, for the documentary Along The Wabash, which involved several others from The Media School. Students Adam Lee and Emelie Flower served as first camera assistants for the film, and D'Ann Record and Adrienne Wagner, both students in Schwibs' T347 WTIU Production Workship, served as assistant to the producer/archival researcher and production assistant, respectively.
Senior lecturer Jim Krause, AS'85, BA'86, MSEd'92, helped with navigating and filming on water during several scenes of the documentary, and two alumni also were involved: Jacob Lindauer, BA'10, was a videographer/director of photography, and Henry Malone, BA'15, was an archival researcher. 
The school provided cameras, lenses, sound gear and other equipment.
"The nominations of the program are a great honor for all, and while it did not win, it represents a wonderful achievement for both WTIU and The Media School," Schwibs said.
Other Media School students, faculty and alumni received nominations for this year's awards:
Jay Kincaid, BA'82, director of facilities and technology, Magazine Program – Program/Special, studio director for The Weekly Special, "Passion to Preserve"
Student Kelsey Gumm, Short Form, producer, editor and host of "Fitness Zone – Hockey," for the WTIU children's program The Friday Zone
Jacob Lindauer, BA'10, Magazine Program – Feature/Segment, producer/editor of WTIU's The Weekly Special, "Indiana's Official State Gun"
Adam Carroll, BA'05, Editor – Program (Non-News), editor of WTIU's The Weekly Special, "Red Skelton Museum of American Comedy"
The regional awards were presented by the Lower Great Lakes Chapter of the National Academy of Television Arts and Sciences, which covers several cities in Indiana, Ohio and Pennsylvania.
More: