Schiller talks about 'difficult times' during media revolution
By Jessica Birthisel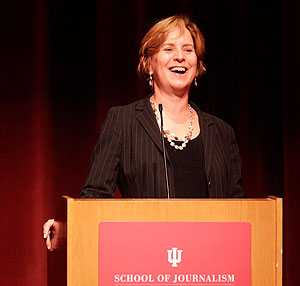 National Public Radio CEO Vivian Schiller didn't mince words Monday as she took to the Buskirk-Chumley stage Monday night.
"These are very, very difficult times," said Schiller of the state of journalism, promising to first depress the crowd, only to cheer them up by the end of her talk.
Schiller, who spoke on "The Changing Face of Journalism," was the second lecturer of the School of Journalism's fall Speaker Series. She supported her grim comment with statistics. Eleven percent of newsroom jobs were cut in 2008, said Schiller. Dailies in cities where daily newspapers still exist are losing upwards of $1 million per week. Surveys indicate that the public's assessment about the accuracy of news is at its lowest level in almost two decades.
"I don't know where journalism is going," said Schiller, but she predicted that in 10 to 15 years, scholars and historians will look back on 2009 as the year that everything changed.  "What it's going to change to, we don't know, but you can feel it. It's a revolution."
This reality is important to all citizens, she said, not just those who practice, study or teach journalism.
"You should care a great deal about what happens in journalism," said Schiller. "It's about the future of our democracy."
Acknowledging the loftiness of the claim, Schiller said that out of the ashes of these dying newspapers will rise "a fantastic era" of information and journalism.
NPR is one such organization that is preparing for tomorrow's industry, said Schiller, and the company's present initiatives and future goals give cause for cheer amidst troubling numbers.
"There are some really good reasons to be cheerful, and these are the reasons that keep me going," said Schiller.
First, Schiller said the audience ("which is where all conversations about journalism must begin and end") is there. Audiences for NPR are at an all-time high with 32 million people tuning in to public radio every week.
And not only are the audiences present, said Schiller, but they are paying for content.
"Our listeners are stepping up to the plate to support public radio in record numbers," said Schiller. "Pledge drives are higher than ever."
Schiller said NPR audiences are engaged because they really care about the product. Feeling like a rock star at times, Schiller said when she mentions to new acquaintances that she's associated with NPR, they "go nuts." This is different from people's reactions to her former employer, The New York Times. That audience and product, said Schiller, had a connection of the head, an "intellectual connection."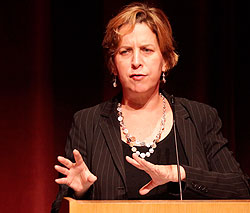 "With NPR, there's a connection of the heart," said Schiller, who became the network's CEO in January after working as senior vice president at The New York Times, as general manager of the Discovery Time and for CNN Productions.
She pointed out that journalism itself is not in crisis, but rather its business model. Public radio, says Schiller, serves as a good example of a diversified revenue system. Still, that model may not fit all media.
"We must find other ways and we will find other ways," said Schiller.
New media may be one of those ways.
"The Internet is not the devil," said Schiller, describing it as the greatest thing that's happened to journalism in her lifetime, the most revolutionary for the free flow of information since the printing press.
One digital platform has especially great potential for journalism, said Schiller, and that's social media, which allows journalists to engage with the audience as distributors of content. As an example, she talked about the "balloon boy" hoax and NPR bloggers' comments. Not only had NPR listeners moved past basic emotional reactions to the news story, but some were using math and physics equations to debunk the myth that the vessel could carry a six-year-old child, arriving at this conclusion well before authorities. This type of interaction and participation is simply not possible in print, said Schiller.
Schiller said she is also hopeful because new news organizations are emerging, some the results of journalists' buyouts at major media organizations.
"This is happening everywhere. There's a flowering of grass roots news organizations all over the country," she said. "I am as optimistic about journalism as I've ever been."
As NPR looks to the future, Schiller said it will focus on innovation, diversifying the audience, increasing the quality and quantity of local journalism, and building the digital platform of public radio.
She advised journalism schools and journalism students to prepare for a new day in the industry as well. Journalism schools need to partner with public media entities for learning opportunities, she said, as well as lead the effort to teach media literacy to non-journalism students. Journalism schools should abandon the notion of having students focus on different platforms such as newspaper, magazine and television.
"I would actively discourage any journalism student from picking a discipline," said Schiller. "We are living in a multimedia world."
She had other advice for students, encouraging them to learn the language of the Internet, to learn basic software development, to "experiment like crazy" with different business models, and to not give up or lose heart.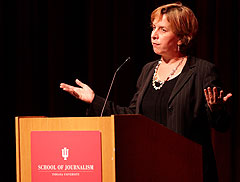 She said at a lunch with journalism students earlier in the day, one student mentioned that her parents had been criticized for paying tens of thousands of dollars each year for her to major in a dying industry.
"It's not a dying industry," said Schiller, explaining that it's an industry in the midst of reinvention. Short of life-saving medicine, she said, nothing is more important than doing good journalism and shining a "bright light" on the major causes of our times.
Schiller finished her talk by praising Bloomington's local NPR affiliate, WFIU.
"I am so inspired by what's going on here," said Schiller, before finishing with a standard public radio line and eliciting laughter from the crowd. "I have to end by saying, please support your local public radio station. The pledge drive is coming up soon."
Following her speech, Schiller answered audience questions in a lengthy Q&A portion of the event.
Audience member Sally Thomas said after the event that she listens to NPR every day while working in her art studio and came to the speaker series because she wanted to see who was now in charge.
"I was very impressed with her," said Thomas. "I think that NPR is in very good hands."
Emma Kahle, a high school senior from Jasper, Ind., and a prospective IU journalism student, said Schiller brought up a lot of interesting things about journalism that she had never thought about. Her parents, John and Linda, who accompanied Emma on her visit to the School of Journalism Monday, said that as NPR supporters, they were excited to find out that Schiller's talk coincided with Kahle's visit day at the university.
Linda Kahle said she could empathize with Schiller's anecdote about funding a child's college education in a transitioning field such as journalism. But just as Schiller hoped, she left the talk feeling hopeful.
"It was encouraging to hear her say something positive," she said.
Kahle's father said he is not pessimistic about where the industry is headed.
"The medium is not the message," he said, adding that this current transition is not the first time that writers and audiences have resisted technological changes. In fact, he agreed with one of Schiller's main premises as he considered his daughter's future in the field.
"This could be the most exciting time to be in journalism since the invention of the printing press."
The fall Speaker Series wraps up Nov. 10 with a lecture by Fox Sports' Joe Buck.