Sarge presents ongoing research on advocacy advertising
Assistant professor Melanie Sarge wants to know how advocacy advertising affects consumers' perception of brands and what makes these campaigns successful.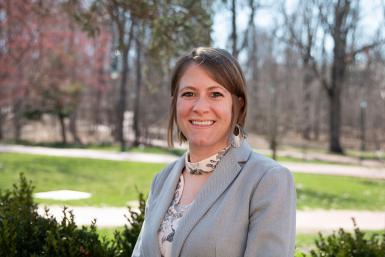 Her presentation, "Leveraging Secondary Associations through Advocacy from a Brand Management Perspective," at the final Media School research colloquium of the year Friday outlined her thoughts and background research for two studies about the relationship between associations and brand perspectives.
"There's different ways we create these associations — our own experiences or marketing communication, for example," she said. "The one I want to hone in on as a secondary association is when a brand links itself to an issue or cause."
These studies are still in their beginning stages, but they will analyze various factors related to advocacy advertising.
"The goal is to increase awareness of the cause, but also the benefit the brand hopes to get is a more favorable brand perception," Sarge said. This particular type of advertising can have different levels of influence on consumers, depending on their existing brand loyalties and what motivations they believe the company has, she added.
Sarge hypothesized that advocacy ads will cause the consumer to think more than traditional ads and that consumers in the middle stages of the consumer life cycle will have more thoughts than those in the early and later stages.
Her second study will focus on what makes advocacy advertising campaigns successful.
Congruency, or the idea that the brand and the social issue or cause it's focusing on should have a logical association, will impact success, she said.
"If people were given the opportunity to think, which advocacy advertising is supposed to do, congruency didn't seem to matter as much," she said.
Additionally, Sarge said she is interested in looking at new, emerging brands. Consumer motivation is another aspect she said she wants to consider.
For example, she said: Do people back causes because they want others to see they support certain issues or because they have a personal connection to the issue?