Safire analyzes candidates' election strategies
By Abby Tonsing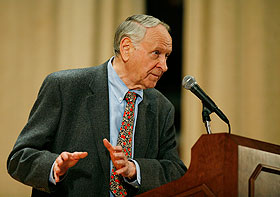 Pulitzer Prize-winning commentator William Safire mixed insider politics with a dash of linguistic wit as he addressed a Bloomington audience Monday night.
"This is the most fascinating political moment in many of our lifetimes," the self-described libertarian/conservative told the near-packed audience of students, faculty and area residents at Alumni Hall in the Indiana Memorial Union.
"It's the only three '–ism' campaign that I can recall," he continued, referring to the racism, sexism and ageism he said the three presidential contenders have faced and still may face during the campaign.
Safire's speech "What's Going to Happen in Washington and the World?" marked the second of three School of Journalism Spring Speakers Series.
First, Safire stressed that the race for the next president is still indeed a race, in which anything can happen to change its course of events.
"A number of things could happen that could turn this campaign into a cocked hat," said the writer as well-known for his writings on language as his writing on politics. "A blooper could take place. And a blooper could change the election."
As an example, Safire referred to former Virginia Sen. George Allen's controversial use of the word "macaca" that cost him his seat in 2006. "His loss changed the make-up of the U.S. Senate," Safire said. "Huge change as the result of one blooper."
Then, there's always the possibility that a scandal can be uncovered, as nobody is scandal-proof, he said.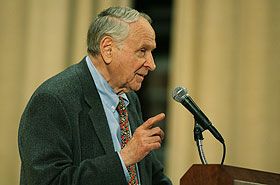 "The guy who comes up with it comes up with a Pulitzer and the adoration of an entire nation," Safire said of the journalist to discover the next big political scandal, a comment that received laughter from the audience.
During his speech, Safire had positive things to say about all three of the presidential candidates: Democrats Hillary Clinton and Barack Obama, and Republican John McCain.
"She is fast on her feet, she's a good campaigner," Safire said of Clinton. He also complimented Clinton on "working her way to the center and not appealing to the dovish left of the Democrats."
That, and Clinton can fire back her own linguistic wit to his. Safire recounted an encounter with Clinton after he had called her a "congenital liar." Clinton retorted that her husband hadn't said that if he wasn't president, he'd punch Safire the nose. What he said was: Safire writes pitiful prose.
"I thought to myself, she'll be good in a debate," Safire said.
"What does she have to do to win? First of all, she has to hang in there," he said of Clinton's chance to win the Democratic nomination. "The swings in this campaign are enormous. Everyone has one or two swings left in them. She has to do a lot better than good. And it's not impossible because the pendulum swings."
Concerning Obama, Safire recalled the first time he saw the Illinois senator work a crowd. "He sang a song, and everyone went wild," he said.
Safire considers Obama to be a fresh face marking a new generation in politics and drawing comparisons to John F. Kennedy. He also commented on the "thoughtfulness of his speeches," specifically Obama's recent speech regarding race in America in light of his controversial pastor's views.
"As a professional, I can tell you that was a good speech," said Safire, who was a senior speechwriter for former President Richard Nixon.
But the Democratic in-fighting of speech versus substance might lead the party to its train wreck, Safire surmised, a train wreck that he would like to see on play out on the party's convention floor.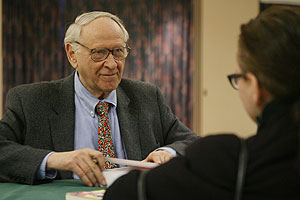 "Because that's newsworthy," he said. "What we love to see is a turmoil on the convention floor."
Safire turned his attention to the Republicans as well.
"What are the Republicans doing? Rubbing their hands," he said. "The Republicans are absolutely delighted these days with the savagery of the campaign that the Democrats are having."
Safire predicted that Sen. John McCain will "run as a moderate and as a man you can trust." Right now, McCain is receiving a free ride from the press, thanks to the focus on the Democrats, he added.
Safire offered some free advice to McCain. Should Clinton win the Democratic nomination for president, McCain should pick Secretary of State Condoleezza Rice as his running mate.
"She'd be very good on television and would reassure a lot of people that we're not a racist country," Safire said.
Republicans might lose control of this election if Clinton steps aside and works on becoming Senate majority leader, allowing Obama to run for the presidency, he said. If the Democrats establish an "everybody loves everybody" campaign, the Republicans will see their downfall in this election, he said.
"This is a moment in history that we are all living through," Safire reminded the audience. "Lap it up. Read all about it. Compare the nutty blogs with the responsible blogs."
Safire's piece of advice to journalists: Look at that blank sheet of paper or that blank computer screen and don't flinch. Just start writing, he concluded during the question and answer session.
Afterward, audience members digested the political analysis.
"I thought he was on the money for the most part," graduate student Rama Sobhani said of Safire's political predictions. "It's what we've been hearing in the mainstream news reports and I appreciated that he didn't go off on a personal opinion diatribe. I enjoyed it."
"This is a guy who's had a career both as a political insider and as a journalist, so it's neat to be able to get the perspective of someone who's seen the workings of the political machine from both sides," said Colin Bishop, a graduate student in the School of Journalism.
The School of Journalism Spring Speaker Series continues when presidential historian Michael Beschloss visits April 14. Former CNN broadcaster Andrea Koppel visited in February.