Ryder to moderate Oct. 8 debate in closely watched Senate race
Anne Ryder isn't intimidated by the assignment of moderating a debate for one of the most closely watched U.S. Senate races across the country. But she knows she needs to be prepared.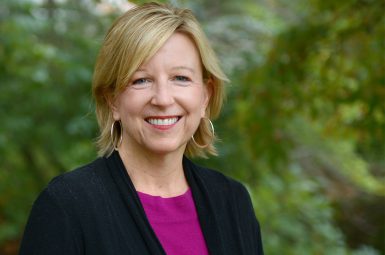 The Media School senior lecturer in broadcast journalism will moderate the Indiana Debate Commission's U.S. Senate debate at 7 p.m. Oct. 8. Three candidates for Indiana's seat — incumbent Democrat Joe Donnelly, Republican Mike Braun and Libertarian Lucy Brenton — will debate in front of an audience of 415 people at Purdue University Northwest's campus in Westville.
The debate is the first of two in a Senate race that major news outlets have pegged as one of several key races in deciding Senate control.
Ryder, who spent 30 years in TV news, also moderated a 2010 Senate debate in Vincennes. As a moderator, it's Ryder's job to ensure all candidates are following the rules, answering questions and staying within time limits.
Questions are submitted by voters ahead of time, but Ryder said she'll follow up to ensure the voters' questions are being answered completely.
"I don't have to be a referee, but I need to be prepared," Ryder said.
The Indiana Debate Commission considers diversity and experience when selecting moderators, said Gerry Lanosga, Media School associate professor and IDC president. Ryder's 30 years in broadcast news included work as a producer, reporter and anchor at WFLI Lafayette, WTHI Terre Haute and WTHR Indianapolis. She has 18 regional Emmys and is in the Indiana Broadcast Hall of Fame.
"We want the moderator to reflect the full flavor and character of the state at the debate," Lanosga said. "They should also have a firm hand and keep the debate on track."
The moderator should be prepared to go off script, ask her own questions and make sure the candidates address the issues, he said.
This debate could be different from the 2010 debate she moderated, Ryder said, because of the race's national prominence. She said Donnelly's seat is considered vulnerable, and there's a lot of money going into this race.
"It is possible we'll see fireworks," Ryder said. "Sometimes you have to step in."
Ryder said she encourages voters, especially students, to watch the debate and keep up with what's happening leading up to the midterm election. Indiana voters need to hear what all candidates have to say about the issues, she added.
"Voters should be fully informed and follow politics on a regular basis," Ryder said.
Lanosga encourages faculty and staff to get involved in the debate process. Voters can submit questions now, and they'll be accepted through the week before the debate. C-SPAN will broadcast the debate live, and it will be live streamed at indianadebatecommission.com.
"It's our duty as citizens to be involved," Lanosga said. "My ultimate hope is that more people get involved, regardless of what side they're on."
More: