Robbins describes writing life
By Paige Ingram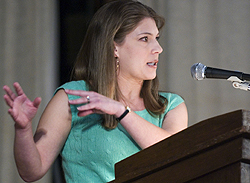 Author Alexandra Robbins is not afraid to befriend her sources.
"That's the one ethics line I routinely cross and don't feel bad about," she said to a group of journalism students Wednesday at Ernie Pyle Hall.
This tactic has enabled her to share the inside world of sorority girls, high school "overachievers" and the secret Skulls organization at her alma mater, Yale University.
Her success as an investigative journalist led her to be invited as the first of three speakers in the School of Journalism's spring speaker series, which she kicked off with a speech to the public in Alumni Hall in the Indiana Memorial Union Wednesday night.
As in her book, Pledged, where she went undercover and lived in a sorority house, Robbins blended in with a group of journalism students at a lunch and reception earlier in the day. Chatting easily at the reception in the Ernie Pyle Hall library, Robbins was nearly indistinguishable from the college-age women, thanks to her age, casual attire and laid-back nature.
"She seemed like another college student," said junior Andrea Alumbaugh. "I could definitely see how she could blend in with a sorority."
However, at the speech that evening, many IU sorority members did not feel kinship towards the author.
Junior Jenn Luechauer attended with several of her sorority sisters from Chi Omega. Although she said she hadn't read Pledged, she had questions for Robbins based on her friends' readings.
"I wanted her take on why she thought it was necessary to reveal secrets of sororities," Luechauer said, "because that's what our whole society is based on."
Robbins' appearance coincided with breaking news from DePauw University, where Delta Zeta sorority expelled several members, a move some charged was based on physical appearance. At the evening talk, many of the questions posed to Robbins centered on her fourth novel, Pledged,rather than her latest, The Overachievers, which was her topic for the night.
While Robbins said she could not specifically address the Delta Zeta story, having not done any personal research on the matter, her instinct was to question the "financial reasons"response offered by the sororities' national headquarters.
"My biggest problem with sororities is they're run like businesses, when they're supposed to be founded on the bonds of sisterhood," Robbins said.
Robbins developed lasting friendships with the women she followed in Pledged, who she said were happy with her published depiction of their lives. Despite disdain from some of the greek members attending the evening talk, Robbins said 95 percent of the responses she has received from greeks on the book are positive.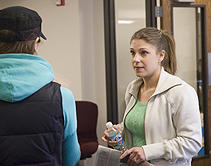 Responses from journalism students also were positive Wednesday during the School of Journalism events, as the author fielded questions on finding jobs, writing techniques and salaries.
Beth Moellers, director of communications for the School of Journalism, was pleased with the response. She said IU administrators issued a mandate to Dean Bradley Hamm when he came to the school in 2005 to bring notable professionals in journalism to campus. When senior Miranda McCage suggested Robbins as one of these professionals, Moellers said the school was happy to arrange the visit.
"It's great to bring people whom the students want," Moellers said. "With so many young women in our school, it's good to have a journalist role model."
Alumbaugh quickly adopted Robbins as a role model after the visit, saying that she, too, wanted to write freelance material, as Robbins did at the start of her career. However, Alumbaugh said she is realistic with her own goals.
"It's inspiring to see someone that successful, but at the same time she's the minority," Alumbaugh said.
While Robbins was flattered by the students' praise, she cautioned being viewed as a role model.
"People assume the life of an author is so glamorous, but it's not," Robbins said, describing the hours of solitude while writing and the often uncomfortable nature of being on television, where she often appears to discuss her books. "People compare their life to what they think mine is as a writer."
While she has found success in her chosen profession, it isn't one that came easy. Robbins became interested in investigative journalism while writing for her high school newspaper. Tackling stories about LSD use among students and the trend of parents throwing parties for their children, she strived to "delve below the surface of what people talk about."
The reaction to these articles, including a pseudo death threat, is what kept her writing.
"I like the response of people thinking, 'What is she going to do next?'" Robbins said.
What came next was a degree from Yale University, one less-than-inspiring job and an editorial assistant position at the New Yorker.
"People think 'Wow. You worked at the New Yorker,' but I was basically a glorified secretary," Robbins said. The job did, however, give her an inside look into the world of journalism. Over time, she was able to get countless freelance articles printed in publications ranging from Cosmopolitan to the Washington Post as well as publish five books.
Of all the bylines, Robbins said The Overachievers, her latest book, is closest to her heart.
"I can relate to these people," she said, admitting that she was an overachiever in high school.
The book centers on several students from her own high school in Maryland, 10 years after her graduation. The premise was based on a theory Robbins developed as she observed her younger brother and sister, that high school life had changed during the past decade.
After following four students through the last 18 months of their high school careers, her theory proved correct: "High school pressure is out of control."
Robbins' speech Wednesday night summarized these findings, often returning to the same dichotomy posed by one of the people she followed: "Do you want to be happy or do you want to be successful?"
She explained the "overachiever culture" as striving for success by garnering top accolades and grades, often at the price of happiness. However, by discrediting college rankings and sharing personal anecdotes, she sought to prove that happiness does not have to be forfeited at the price of success.
"It's a myth that going to a certain school or hopping onto a certain career path makes one successful," Robbins said. Facing a group of hundreds of students in the middle of figuring out their lives' plans, she offered hope Wednesday night — and a few tips.
"Take risks, and spend some time really thinking about what you want from your life, not what others want for you," Robbins said. "No matter what you do after college, you'll be OK."