Return to in-person HSJI allows for hands-on technical experience, personal connections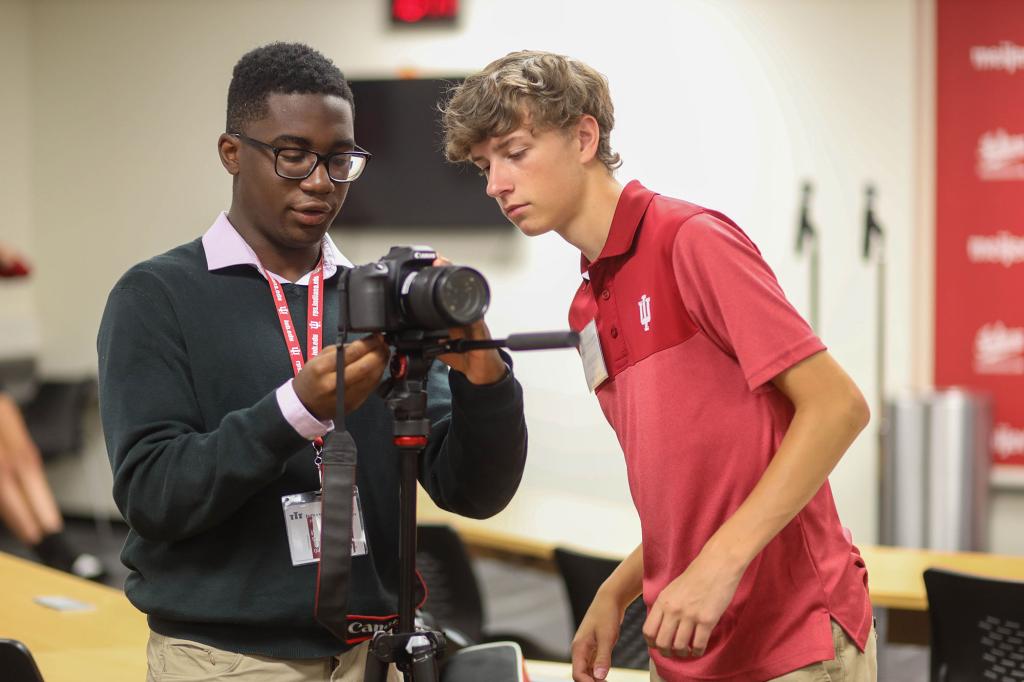 The Media School's High School Journalism Institute held in-person workshops this month for the first time in two years, giving high school students access to university-level technology and hands-on learning.
About 100 students attended the first week of the camp, taking classes in design; documentary filmmaking; investigative journalism; photojournalism; news, sports, feature and opinion writing; and yearbook, as well as tracks for editors-in-chief and section editors. The second session had two classes — 360 Journalism and Sportscasting — and about 30 students.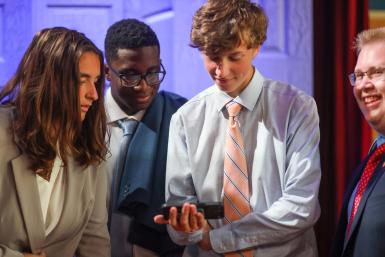 Students entered the program with different experience levels than past years because of the COVID-19 pandemic, said Grace Waltz, the instructor for the Intro to Documentary Film class. She said students were more comfortable with emails to sources than phone calls, and many did not have much shooting experience.
Waltz said she tries to move students out of their comfort zone so they become familiar with new skills. She said she focuses a lot on the planning aspect of documentary filmmaking and different shooting techniques, and includes a little bit of instruction on editing and post-production.
"The ultimate idea is that they can see all these different parts of documentary filmmaking and hopefully know if that's something they want to do," Waltz said.
Henry Johnson, a rising junior from Noblesville, Indiana, in Intro to Documentary Film, made a short film about the history of protest in Bloomington in the class. He said he enjoyed the freedom that HSJI gave him to work on any topic he wanted.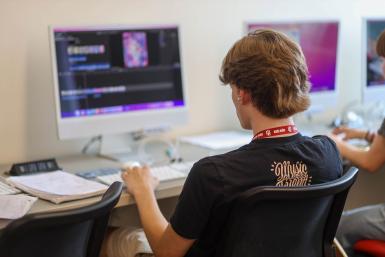 Johnson said the in-person camp taught him new filmmaking skills and gave him easier access to content he could shoot for his documentary.
"I feel like I've learned to be more independent with films," Johnson said. "I've just kind of gotten in the mindset where if I want to make something I'm just going to go out and do it."
The return to an in-person format allowed Jeff Gabbard, the instructor for Intro to Photography, to teach specific, technical skills using professional equipment. In the virtual programs, he said most students only had their cell phones to shoot on, so he took less of a technical approach with the class and focused more on composition.
Gabbard said he thinks students get more out of his class when they are in person, especially because many of the students in this class start as beginners to photography.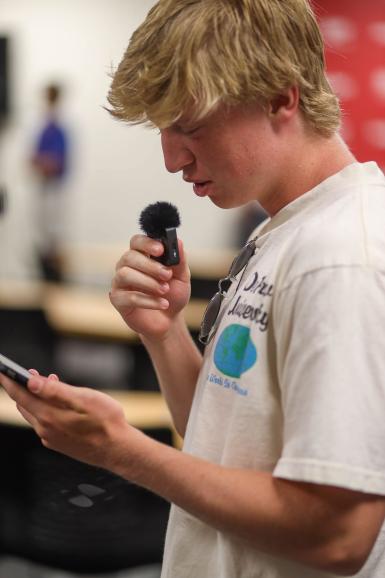 "For me, the best part is the access to technology that the kids have with both the cameras and the computers, so I can teach them some things that they might not be able to do at home," Gabbard said.
Angel Rodgriguez, a rising junior from Chicago, said the class taught him how to properly use a camera.
"My favorite part of the class is taking photos with specific requirements, because it's a challenge to get them how they have to be," Rodriguez said.
Steve Layton, the instructor for the Design class, said he wanted to expose students to Adobe design software, which is available on the university computers. He said he focuses on teaching students tangible skills for operating the software, the principles of design and the importance of using design for storytelling.
Layton said in-person classes allow him to interact with the students on a more personal level than virtual workshops.
"Just speaking with them individually and getting to know them and seeing the way they work is pretty rewarding," Layton said.
Colton Harbolt, a rising senior from Mount Washington, Kentucky, said he learned a lot about the Adobe programs Illustrator, InDesign and Photoshop in the class.
"It was very beneficial that we were going over more of the technical aspects of design and going over all those small details that you wouldn't think about, but they make a big impact," Harbolt said.