Renée Baker shares philosophy on creating unexpected film scores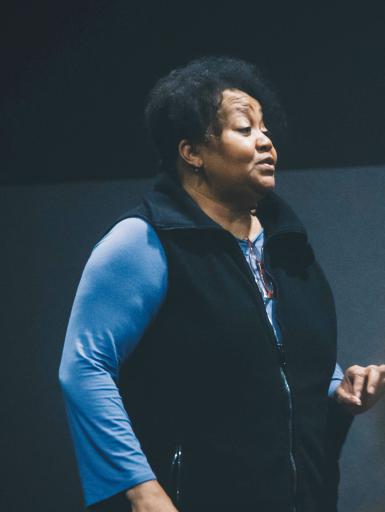 Renée Baker is not your average film composer, nor does she strive to be.
With sinister strings and haunting percussion that pendulums like a warning siren many octaves lower, before quickly transitioning into snappy and sometimes sultry jazz measures, Baker is in many ways a reflection of contemporaries like Mica Levi ("Jackie") and pioneers like Alex North ("A Streetcar Named Desire").
Her music creates tension so present that it becomes its own character in the film's narrative. No matter what is occurring on screen, a sense of uncertainty looms.
"I absolutely don't want you to be able to predict anything," Baker said. "I want it to go exactly where you think it wouldn't go. I want to surprise you."
On Wednesday, Baker screened the 1930 silent film "Borderline," which she recently scored with the Chicago Modern Orchestra Project, an organization Baker founded and directs. The screening, held in the Moving Image Archive Screening Room of the Herman B Wells Library, was sponsored by the Black Film Center/Archive. Baker gave a Q&A after the film.
"Borderline" stars actor and singer Paul Robeson and is directed by Scottish filmmaker Kenneth Macpherson. The film deals with race relations, particularly interracial relationships, through an experimental lens, often dabbling in avant garde imagery.
Because of this, the unconventional score seems a given, but there were still more music scoring tropes Baker had to avoid.
"I'm quite different from your 'Star Wars' movies," Baker said. "I'm not interested in Mickey Mousing."
The term "Mickey Mousing" is often used among composers to describe music that mimics the actions of the characters on-screen, like what one would see in old cartoons. It's common for artists composing silent film soundtracks, and even modern comedy and horror films, to use this technique.
But Baker, on the other hand, said she is more interested in capturing what is happening around the scene rather than what's happening within the scene. She does this by showing the scene either through her, the character's or the audience's perspective. It's far from objective.
"I'm trying to give you an environment," Baker said.
As an example, Baker cited "A Page of Madness," a Japanese silent horror film she recently scored and screened in France. The film takes place in a mental institution, so Baker decided to write the score through the perspective of one of the patients. She said this created distress among audience members, which was her goal. She wanted to capture the sense of anxiety that a patient might feel.
"When you're suffering from mental illness, you don't get a break," Baker said.
While technology and internet tools are taking over much of the music composition industry, Baker continues to handwrite all her music during the creative process. She said doesn't need tools to listen to how an instrument would sound making certain notes because she "can already hear it" in her head.
On top of this, she prefers that her orchestra members don't see the film before she conducts them, so that they don't try to offer suggestions and impede on her artistic vision. She also isn't interested in asking others' opinions while writing scores. She gives herself complete faith in her ability as a musician.
"If I make a mistake, then I should be able to hear it," Baker said.
With her work, Baker seems to strive for music that speaks for itself so well that it crosses any barriers potential viewers may have with watching older films like "Borderline." She wants her audience to see art, not just old art.
"I hope you forgot you were watching a silent film," Baker said.