Renee Baker explains process of composing for film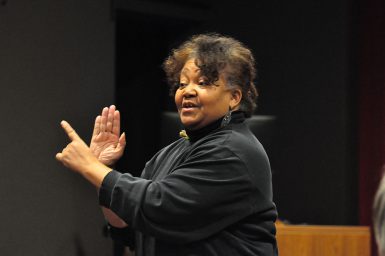 In their heyday in the early 20th century, silent films were shown in theaters with a pianist or organist on hand to play music to cue audience emotions.
Today, composer Renee Baker is creating scores for silent films, bringing the music to technological life where it is accompanies the film.
Baker, a composer and conductor who writes scores for silent films, visited the Black Film Center/Archive last week to screen The Bluebird with her original score and to talk about her work. In addition to her numerous appearances at music festivals and concerts around the world, she leads her own ensemble and composes music for groups across various genres.
But her work with silent films blends her skills with her art, she said. While on campus, she also showed and discussed A Page of Madness and The Golem, two other silent films for which she's composed music.
The Bluebird, a silent film released in 1918 as World War I was coming to an end, is a fairytale, different from some of Baker's other film work.
"I saw this movie as innocuous propaganda that basically told its audience, it's going to be all right, folks, there's a light at the end of the tunnel," Baker told a group at the archive who watched the movie.
The film follows the journey of two children, a brother and sister, on their quest to find a magic bluebird that will bring happiness and health to their neighbor, a young girl who is very ill. The children are visited in the night by a beautiful fairy, who turns all of the objects in their house, as well as the dog and cat, into humans, revealing their "souls." The children and their new friends all travel to different worlds in search of this bluebird. They visit the frightening world of the night, the surprisingly ominous world of happiness and, in the end, they are exposed to the greatest power of all – a mother's love.
"It was a joy watching children who were able to be children," said Baker of what drew her to the film. "They are just before that period where life often gets crazy for young people, where everything is heartbreaking. In this, they are able to just be kids."
She said she sought to reflect this in her composition. Much of the music features strings, woodwinds and drums, and used standard classical and even jazz melodies. However, at some points, Baker also features Malaysian bells in more minimalistic passages.
Baker said she also did something she had never done before: She created short motifs that would be introduced and then brought back at various scenes in the film.
"I didn't want a Peter and the Wolf thing," said Baker, referring to the classic Sergei Prokofiev music composition that used unique, recognizable, musical themes for each character to tell who is in the scene. "I just grabbed a module and decided I would use them as landing points for the brain."
Although Baker's composition uses several other benchmark musical techniques, she added a level of experimentation. She didn't want to take viewers back to 1918 to watch this film; she wanted to bring the film to us in 2017.
"I wanted to remove the oldness of the film, because we know it's old," she said. "It's like putting on an old dress. We can accessorize it to bring it forward, but we embrace the value of what it was. I'm bringing it to now, so you leave feeling like you just heard something fresh."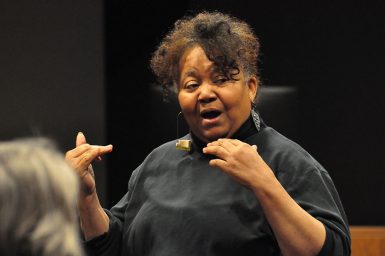 Baker manipulates the feel of the film through her music, but she makes a point of not touching the film itself. She doesn't cut, edit, crop or change the order of anything the audience sees on the screen. Unlike what you hear, what you see is exactly how the film looked back when it first premiered.
"I have an aversion to messing with films because that's somebody else's product," said Baker. "I would rather augment the art that is there."
Baker has a batch of about 163 silent film scores she wants to complete. So far, 63, including The Bluebird, are finished. However, Baker says projects like these are never finished.
"I'm never really wedded to one way. You know, there's 30 ways to crack an egg," she said. "There's no one way to give a film life."
For now, though, IU will be seeing a lot more of Baker because she just teamed up with IU Cinema, the Jacobs School of Music and the Black Film Center/Archives to create music for Scar of Shame, one of the first silent films to have an integrated cast and crew. Chicago-based Baker will visit campus frequent to work with and oversee a team of student musicians.
When Baker is finished with her work as a silent film composer, she says she will move on to something else that excites her because, she said, "there's so much in the arts to excite somebody."
More: