Raymer wins grant for British pubs book
Emeritus professor Steve Raymer received a $3,000 grant to fund the completion of The Public House, a coffee table picture book about one of Great Britain's most threatened institutions: the pub.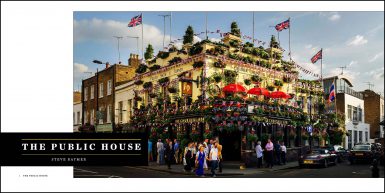 The Retired Faculty Grant-in-Aid comes from IU's Office of the Vice Provost for Research. Raymer retired in 2016 but has continued to teach in Dubai and at The Media School, in addition to publishing a visual memoir, Somewhere West of Lonely, with IU Press.                                                
Raymer reports that about 19,000 public houses have shuttered their doors since 1980, leaving more than half of the villages in England, Wales, Scotland and Northern Ireland without a "local," as pubs are known, for the first time since the Norman Conquest. Pubs are now closing at the rate of 21 per week, according to the Campaign for Real Ale, a nonprofit that promotes "real ale, real cider and the traditional British pub."
"Thousands more pubs are expected to close in the coming years, and with their shuttering goes a piece of British culture, one pub at a time," Raymer said. "Hence the historical importance of this project." 
Larry Buchanan, BAJ'11, is designing the book.
More: