Raymer honored at top international photojournalism exhibition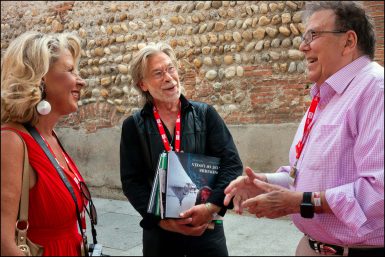 Emeritus professor Steve Raymer was recently honored at Visa Pour l'Image, Europe's top photojournalism exhibition, in Perpignan, France.
Raymer's visual memoir, Somewhere West of Lonely: My Life in Pictures, was screened Sept. 8 before an international audience of about 500 photographers, editors and media executives at Campo Santo, the largest medieval cemetery in France. The 12-projector multimedia show of Raymer's pictures was accompanied by his voiceover in English and French, explaining many of the pictures from the book by Indiana University Press.
"Raymer covered himself in glory with the presentation," said Kent Kobersteen, former National Geographic director of photography. "Steve's National Geographic colleagues were all talking about his show at La Poste, the local media gathering spot, and all agreed it was superb."
Sharing the screen with Raymer were the French photojournalist Véronique de Viguerie and her show, "Yemen: The War We Are Hiding," and Palestinian photographer Khalil Hamra of the Associated Press with a presentation called "Why Gaza?"
This was the 30th anniversary of Visa Pour l'Image, which is often compared to the Cannes Film Festival for still pictures.
In addition to the evening wide-screen presentations, the work of 21 international photojournalists was exhibited in various 14th-century buildings around Perpignan. A number of the print exhibitions dealt with upheavals in Africa, Syria and Yemen. Two of the most powerful shows — by Canadian freelance photographer Kevin Frayer and American Paula Bornstein of Getty Images  — documented the plight of Rohingya Muslims exiled from Myanmar to neighboring Bangladesh.
"Here, we show you the world as it is. With its dramas, its joys, its problems," said Jean-François Leroy, the exhibition's co-founder and director. Leroy said the mission of the exhibition is "to rediscover certain photographers sometimes overlooked, to endorse new talented photographers and to give an opportunity for young photographers to be seen and make a name."