Quindlen talks on power of reading
By Lori DesRochers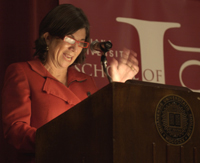 Books are here to stay, says Anna Quindlen, and she is mighty glad for that.
A capacity crowd filled Alumni Hall at the Indiana Memorial Union Wednesday evening to hear her talk, "How Reading Changed My Life."
In the last installment of the School of Journalism's speaker series, the Pulitzer Prize-winning author described the pleasures, empowerment and social change that had come from her love of reading–as well as its more difficult counterpart, writing.
"I read like it's a maniac, it's my single favorite thing to do," she said. "The ability to crawl inside the mind of another is what makes reading the ultimate democratic act in a democratic society." When she declared that it was worse to cut funding for libraries than defense budgets, the audience applauded.
She also examined the way that reading had impacted her professional writing for The New York Times and Newsweek, in addition to her five bestselling novels. The origin of her writing, she believes, began as a result of a childhood speech impediment. While she struggled with her speaking voice because of a stutter and a lisp, her writing voice was strong and sure.
"I found another voice, and I kept it. My words are my best self," she said. "That's what writing should be for all of us." Later in life, her writing represented something much more profound–a way to immortalize her voice for the future for her three children.
"If I were hit by a bus tomorrow, what would there be left for my children? For me, the answer is satisfying," she said. "The written word lives on forever."
Still, writing does not come easily for her, and she cautioned aspiring writers in the audience to not give up just because it is difficult.
"I don't want you to think that if you were a good writer, you would love it and it would be easy," she said. "I hate writing, but I love having written."
Graduate student Sarah Core attended the talk and was relieved to hear Quindlen's take on writing.
"I've read her Newsweek column since 2001, and I'm a big fan," Core said. "Since I am just about to start on my
career and she's at the peak of her own, it felt like she was giving me personal advice. It was comforting to know that she didn't have a plan in the beginning. It makes me hopeful for the future that things will end well."
Quindlen also is an advocate of writing for activism. In her own work, she has covered topics of sexism, homophobia, homelessness, education and domestic abuse, the subject of her 1998 novel, Black and Blue. She found that her writing had a real social impact, and that she became empowered after hearing personal responses to her work.
To conclude her visit to Indiana, Quindlen spoke today at a special program for Middle Way House, a domestic violence program and rape crisis center in Bloomington.
"We use the book Black and Blue for training," said Charlotte Zietlow, economic development coordinator for Middle Way House. "It was interesting to hear that she didn't intend to write about domestic abuse because it's such an accurate portrait of the psychology of abused women. Her subject was very dear to my heart. Reading has really been a life-saving activity."