Q&A: How do I differentiate between good and bad information during COVID-19?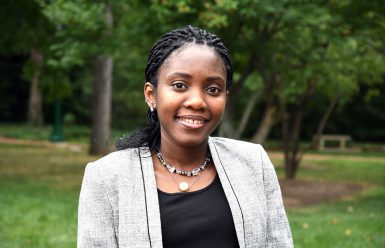 Assistant professor Esi Thompson studies health risk/crisis communication, most recently on communication surrounding the Ebola outbreak. She gives practical advice for identifying credible health information during the coronavirus outbreak.
How do I differentiate between good and bad information on coronavirus?
Ask yourself a few questions:
Does this information align with what the World Health Organization or Centers for Disease Control is saying?
Does it give a complete picture, or does it present only a skewed part?
Does it provide a credible source for the information?
Is the source known for providing reliable information?
What are good sources for information on coronavirus?
Good sources provide credible and reliable information from established people.
Always go to the primary source: the WHO; the CDC; your local, state or county health departments. If you are on social media, follow organizations and research institutions that have a good reputation for providing reliable and credible health information, such as Johns Hopkins Bloomberg School of Public Health and the Harvard T.H. Chan School of Public Health.
There are many sources providing information, but you need to be careful where you look.
Why and how does bad information spread?
In times of anxiety, fear and stress, such as what we have now, people seek information — any information at all — to help them make sense of what is going on and to guide them on what to do to protect themselves or sometimes to support their position. So people start to provide information with various motives. Some people genuinely pass on information they have received without verifying the information is true.
It starts with one person — a tweet, a guess, a suspicion, a question that gets modified — shared over and over again through the media, our social networks, our friends. Really through the same channels that good information is shared. And that is how it spreads.
Sometimes we share information that we think is accurate and we do so honestly, but if is not accurate it has the same unhelpful effect.
What are the potential effects of misinformation?
Misinformation can lead people to take desperate and unbeneficial measures. We all need a healthy perception of various risks.
People who have very low perceptions of the risk of coronavirus may end up putting others at risk due to their behaviors, such as not following recommended social distancing measures. Others with unusually high risk perception may end up taking unproven preventive measures that end up putting their lives at risk. For example, I have heard people say consuming large amounts of garlic and alcohol can prevent coronavirus, which is untrue and dangerous.
Has there been bad information shared about COVID already?
Oh yes. Conspiracy theories about the origins of the virus already abound. All sorts of political undertones have been suggested for the cause of the outbreak.
There is misinformation about eating garlic and taking various kinds of supplements. These things are not bad in and of themselves, but they are not proven to prevent infection or to treat the virus.
How can we stop the spread of bad information?
Always verify. Check the information with various sources. Avoid a single-source media diet. Do not only go to Twitter. Go the website of reliable sources of information about the coronavirus.
Have a healthy dose of skepticism. Remember that we are still learning about the virus, so some information and recommendations may change, and there are uncertainties as well. So be ready to do a bit of work to help yourself and others.