Purcell examines the history of manufactured games
Doctoral candidate Sean Purcell's paper "Rendering in Analog Games: Dissected Puzzles and Georgian Death Culture" was published in the Game Studies journal.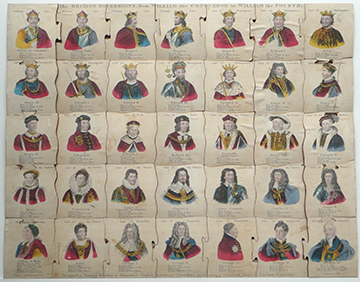 The paper is a case study of the jigsaw puzzle at the moment of its commercial emergence in Georgian England (1714 to 1837). Investigating the materials used in the manufacture of playthings, this essay links British colonial trade to the development of pedagogical playthings in the period. The essay builds on material games scholarship by arguing for a focus on death cultures activated in games manufacture, such as the use of glue and mahogany.
Purcell's work was the result of a research fellowship at the Strong Museum of Play in the summer of 2018, which supports scholarly research about play in all forms and dimensions related to the context, creation, and use of playthings and other play-related artifacts.