Pulitzer winners McDowell, Rezendes describe investigative work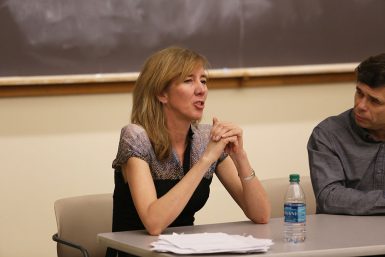 The work of the two guest speakers who visited professor of practice Tom French's class Monday illustrates the power of investigative reporting: one's stories freed thousands of slaves, the other's broke open the scandal of child abuse among Catholic priests. Both won Pulitzers.
Robin McDowell of The Associated Press and Mike Rezendes of the Boston Globe spoke to students in the Behind the Prize class about the power of investigative journalism to effect change. Each week, students hear from media professionals who have won or been finalists for top prizes.
McDowell and three other AP reporters wrote a series of stories on the use of slaves in Thailand's commercial fishing industry. Their investigation traced the seafood to U.S. tables and led to the release of more than 2,000 slaves.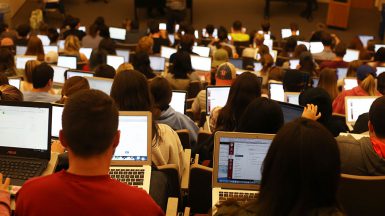 Rezendes was on the Boston Globe Spotlight team that wrote the story exposing the Catholic church's child sex abuse scandal. The team was later portrayed in Spotlight, the 2015 Oscar-winning film.
"These are two of the most important, most impressive, most powerful investigative projects in the entire history of journalism, and we got a representative of from each of them," French said before the presentations. "It's like a total abundance of richness."
McDowell's team went far from home to uncover their story, while Rezendes and team found the scandal in their own backyard. The two very different stories are still very similar. Both prompted change, and both were about issues people knew existed but didn't do anything about.
"Some of the biggest stories come from things that are really familiar to us, things that are almost open secrets," McDowell said.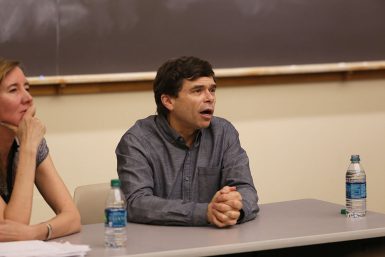 Both stories also freed people from secrets they had to keep, and both gave voices to the voiceless.
"I think it's something to keep in mind as you go out looking for stories. Those of us in journalism, we tend to cover institutions, and we should, but part of our job is holding powerful people and powerful institutions accountable for what they do and what they say," Rezendes said. "It's one of the most important responsibilities of a journalist."
Rezendes said journalists should still stay in touch with local people. McDowell added that stories about local people usually capture what society is feeling about an issue. This has a more powerful impact on readers in the end.
And both urged students pursuing reporting careers to start now, not wait until they graduate or land the perfect job to develop stories that make a difference.
"I think at every stage of your career you have the ability to do stories that you really care about," McDowell said.
More: