Pulitzer winner Bogdanich describes investigating sexual assault on campuses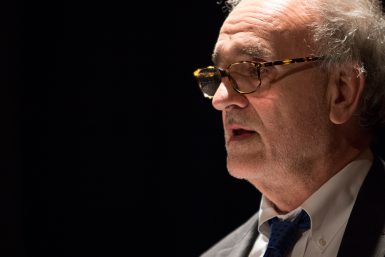 Walt Bogdanich, investigative journalist for the New York Times, has been angry for 40 years.
At least, that's how Bogdanich describes his four decades of investigative reporting for news outlets including The Wall Street Journal, 60 Minutes and ABC.
Bogdanich was the second speaker in the Media School's Speaker Series, which brings renowned media professionals to campus each semester, and he is the spring semester Roy W. Howard Lecturer, an  honor reserved for journalists. Bogdanich spoke in Whittenberger Auditorium Tuesday evening on his reporting experiences and his investigations into rape on college campuses.
"Investigative reporters above all share one quality, a low threshold of indignation," he said to the audience. "That's a polite way to say we get mad easily. Can you imagine what it's like to stay mad for 40 years?"
Bogdanich's anger resulted in many investigative pieces, three of which have earned Pulitzer Prizes, among other accolades.  Bogdanich, who spent his childhood in Gary, was inducted into the Indiana Journalism Hall of Fame last year.
His journey in investigative reporting hasn't been easy, he told the audience. He has been sued for $10 billion dollars, has received death threats and has been called a dog molester -– specifically, a molester of beagles — on Twitter.
"I know that in my own small way, I've helped to make the world a better place," Bogdanich said. To leave a mark, a journalist has to have a strong sense of right and wrong, the courage to speak truth to power and an ability to communicate, he added.
He is guided in his work by two principles: "First, I believe that everything I want to know is written down somewhere, and I just have to figure out where it is," he said.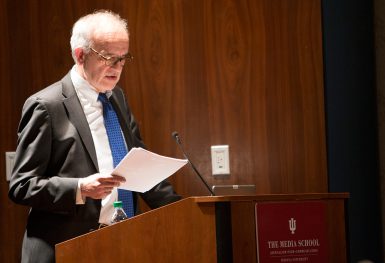 The second tenet is that every source has a motivation to share information; he just has to determine what that motivation is.
These guiding principles, and the belief that "if it doesn't feel right, it probably isn't," spurred Bogdanich to investigate an alleged sexual assault case against Heisman winner and Florida State University quarterback Jameis Winston.  Bogdanich's interest was piqued when the prosecutor in the Winston case seemed to politely suggest the police could have done a better job.
So after other news outlets had decamped from FSU, Bogdanich flew down and walked into the prosecutor's office.
He wasn't expecting to be given much information. "But if you don't ask, you don't know," he said. "So I asked."
This was his entry into the world of reporting campus sexual assault, which he described as an "emotional minefield." He found that the local police had conducted virtually no investigation on Winston's case.
"Had the police done their job, they might have obtained proof," he said, referring to a video a roommate took of Winston during the alleged sexual assault. In the 47 days between the accuser notifying police and the police contacting Winston, the video was deleted.
Winston claimed the sex was consensual, but Bogdanich said as a reporter it was not his job to determine who was telling the truth, especially given the shabby police work.
"Instead, I decided to focus on how well the institutions responded," he said.
Open records requests "portrayed a police department that at times seemed to discourage students from pursing criminal charges." The university administration, he added, showed a lack of interest in the case even though federal law required the school to look into it.
Bogdanich attempted to hear the story from all sides, but as he arrived for interviews he had set up with FSU officials, he learned they had hired an external crisis management team instead.
"Specifically to deal with me," he said. "I guess I should have been flattered."
While the crisis team insisted they were there to help, all of their interactions had to be off the record. Initially, Bogdanich rejected their request, but in the situation, he didn't have much choice.
"I desperately needed access, so I agreed to their conditions," he said. "It did tell me one thing: the university was worried. And that just made me push harder. "
The resulting article put FSU in the spotlight — and not in a flattering way.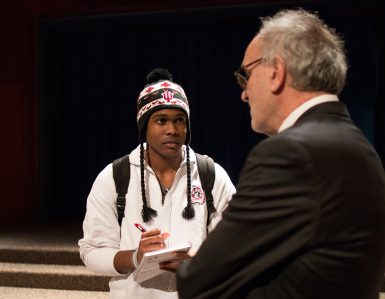 "Neither the school nor the police were very happy with the articles I wrote," Bogdanich said. "We will not be exchanging Christmas cards anytime soon, but neither challenged a fact in my reporting."
As a result of this investigation, readers sent Bogdanich a flood of emails with their own stories and ideas. One stood out: the case of a then-freshman named Anna who was allegedly gang-raped at Hobart and William Smith Colleges in New York.
When conducting interviews with institutions or people in power, Bogdanich won't take no for an answer. But when it came to interviewing a young, traumatized woman, Bogdanich said he did not pressure her to tell her story.
"It was imperative that she talk on her own," he said. "Her story, in all of its uncomfortable details, would be spread across the front page of the NYT."
In those situations, he said, he drops the sales pitch and strives for honesty.
At the small private liberal arts school, Bogdanich had more difficulty obtaining records to verify Anna's harrowing story. He was able to acquire a document detailing a secret hearing for the football players who were accused of the rape.
He found the panelists to be ill informed, one not even understanding what a rape exam entailed.
"How could they put somebody like this in a position of such importance?" Bogdanich questioned, his voice rising.
In summary, he shared with the audience key lessons he has learned in decades of investigations. He said to remember that sexual assault reporting goes beyond proving guilt or innocence. It entails holding institutions accountable and helping future victims of sexual assault.  Always reach out to both the accused and accuser, he said, and get names.
Most critically, "you must be prepared to abandon the story no matter how much time you have invested in it" if the reporting doesn't lead to a thorough investigation.
His talk was followed with a question and answer session. Audience members asked him on what he would do if he were a university president. Would he require every sexual assault matter to be handled by the police?
It depends, he said.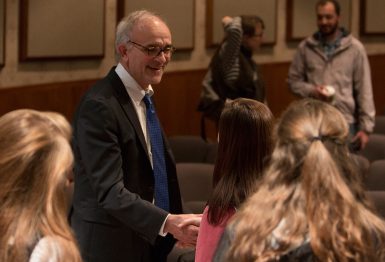 "There are compelling reasons to go through the school," he explained, including a level of comfort for victims not interested in pressing criminal charges. "I would have to be as transparent as possible with very clearly outlined rules."
Another asked him how a boy from Gary was able to transfer his indignation into the skills to be an investigative journalist.
"I really did not like to see people pushed around," Bogdanich said. "I did not like bullies. That's sort of where I started. It just came naturally to me."
At the time, his city editors wanted daily stories. But he put his own time into investigations, and they couldn't know when a well-reported in-depth article showed up on their desks.
"I love doing it," he said. "I love the thrill of the hunt."
Bogdanich also visited journalism classes and had lunch with a small group earlier in the day. Junior Samantha Schmidt, current investigations editor for the Indiana Daily Student attended a lunch with Bogdanich. Schmidt and other student journalists on the team wrote a series on sexual assault at IU last semester.
The team read Bogdanich's work as they began their reporting, Schmidt said.
"I gave him a call early on to get his advice," she explained.  "We used his stories for inspiration for what we could do with the series."
She said Bogdanich supplied suggestions on dealing with roadblocks, accessing university records and deciding whether to use anonymous sources.
WFIU education reporter Claire McInerny attended Bogdanich's talk and said she enjoyed the opportunity, as a young journalist, to learn from another journalist's experiences.
"I liked hearing about his process and how he identifies stories and sources," she said. "It was interesting to learn how he tries to find injustices and how it can be hard for him to get sources to respond as well." She said she hopes to follow suit and begin investigative reporting a story under her education beat.
It's exactly the type of response Bogdanich spurred the audience to take.
"Great journalism that stirs people to action doesn't depend on how many reporters your news organization employs," he said. "One angry journalist with a low threshold of indignation is all it takes. Will it be you?"
More:
Learn more about the Speaker Series.
Read Bogdanich's coverage of sexual assault on campus: