PRSSA members attend national conference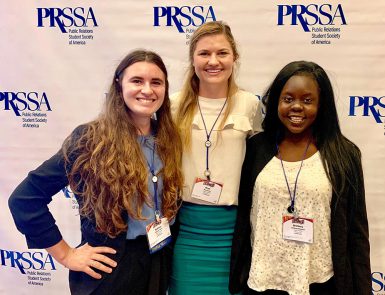 Three Media School public relations students from IU's chapter of the Public Relations Student Society of America traveled with faculty advisor Dave Groobert to attend the annual PRSSA National Conference from Oct. 5-7 in Austin, Texas. Students met with some of the industry's top practitioners and attended sessions relating to their evolving field. They blogged about their experiences afterward.
The evolution of public relations
By Sydney Heile
Public relations is a dynamic field. However, there is a disconnect between what the public thinks is PR (media relations) and what PR actually is (event planning, crisis communication, internal relations, digital/new media, etc.). PR operates in so many spaces and involves so many skills that being the best practitioner means being more than a good writer.
The pillars of PR: Relationships, curiosity and passion
By Bryn Eudy
As I entered the final day of the 2018 Public Relations Student Society of America National Conference, I was already planning my next tasks once I returned to Bloomington. I had follow-up emails and LinkedIn requests to send, resumes and cover letters to edit, and internship applications to submit. However, my approach to all three of these areas will be framed differently following my attendance at the conference. At the final panel my peers and I attended, we heard from  Cheryl I. Procter-Rogers, APR, fellow PRSA and Raymond L. Kotcher, fellow PRSA. It was a "Living Legends" panel that focused on three general topics.
Mentors and life-long learning
By Brittney Mwonya
My fall break consisted of Southern comfort food, hotel amenities and lots and lots of public relations. I spent the weekend in Austin, Texas, with other members of the Public Relations Student Society of America from all over the United States and South America. While the weekend was both entertaining and educational, my biggest takeaway came from a panel with two PR professionals, Ray Kotcher and Cheryl Procter-Rogers. Some of what they said was standard advice, such as know your field and build a network, but there were a few pieces of advice that stood out to me in particular.
More: