Press Release: School launches Center for Documentary Research and Practice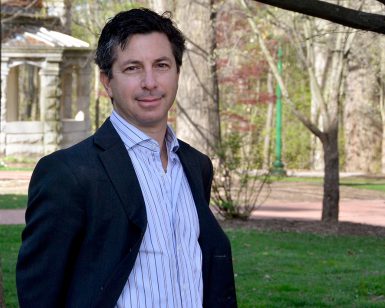 A new center supporting documentary film production and research has been established at The Media School and will host renowned filmmakers visiting the Bloomington campus.
The Center for Documentary Research and Practice will begin operations in September. It will serve as a multidisciplinary unit bringing together scholars and artists from across the university who will work on an array of nonfiction media projects.
It is designed both to support faculty and graduate students who make documentaries as part of their research agendas and to serve as a research hub for those doing historical, theoretical and critical research on nonfiction film and video.
"Documentary film is enjoying a resurgence as its availability across media platforms brings it to new audiences," said James Shanahan, dean of The Media School. "This center will put our school at the forefront of the new movement, both in terms of understanding documentary film and encouraging its production."
The center will offer technological and creative support for projects and serve as a forum for faculty and graduate students to present completed and in-process work. It also will be home to visiting artists and postdoctoral scholars working on projects with nonfiction media components.
IU has a long and distinguished history in film studies, pioneering the development of film courses for the humanities in the 1960s and creating one of the first film studies programs. It boasts one of the top university cinemas in the world and has a faculty of internationally recognized film scholars.
The center will capitalize on IU's extraordinary nonfiction film collections and institutions by partnering with several well-established entities at IU. Many of its events will take place at IU Cinema, with which it will collaborate closely on lectures, screenings, symposia and conferences.
The center will work closely with the Black Film Center/Archive, the Kinsey Institute for Research in Sex, Gender and Reproduction and the IU Libraries Moving Image Archive.
Media School associate professor Joshua Malitsky will direct the new center. He teaches courses on media theory and aesthetics as well as historical, critical and theoretical issues in documentary film. His research focuses on nonfiction film movements in socialist revolutionary contexts. He is the author of Post-Revolution Nonfiction Film: Building the Soviet and Cuban Nations (IU Press, 2013), and his work has been published in journals such as Cinema Journal, Journal of Visual Culture and Studies in Documentary Film.
"Documentary has become one of the dominant forms of political, artistic, personal and, increasingly, academic speech," Malitsky said. "It informs so much of how we speak in and through new media culture."
Malitsky said the center will provide a forum for collaboration and research about the history and contemporary uses of documentary. At the same time, it will offer space for faculty and graduate students to experiment with new forms of multimedia scholarly publications, such as incorporating documentary media into digital dissertations, online journal publications, academic forums and digital books.
"We aim to be more intellectually and disciplinarily expansive than any other institute related to documentary in the U.S.," Malitsky said.
Christiana Ochoa, a professor and the Charles L. Whistler Faculty Fellow in the IU Maurer School of Law, and Jeffrey Gould, Rudy Professor of History in the IU College of Arts and Sciences, will serve as associate directors of the center. Both have made documentaries as part of their scholarly research.
Ochoa directed There Is Nothing Else, a 2014 documentary about communities, mining and environmental conservation in Colombia. Gould produced La Palabra en el Bosque (The Word in the Woods), a 2012 film profiling an impoverished people in remote Morazán, El Salvador, who decided to emulate the early Christian communities.
In addition to serving students from The Media School's doctoral program in cinema and media studies, the Center for Documentary Research and Practice will be a resource for students from other departments in the College of Arts and Sciences, the Jacobs School of Music and the Henry Radford Hope School of Fine Arts.
The center will create scholarly forums for IU community members and visitors, leading to book and journal publications. It also will provide resources for documentary filmmaking and team with The Media School to create documentary production workshops for faculty and students.
The center's impact will be felt right away. In 2015-16, it will host a series of five inaugural lectures and team with IU Cinema to bring internationally acclaimed documentary filmmakers to campus.
The center already has received a prestigious Mellon Sawyer Seminar Grant valued at $175,000 to support a yearlong seminar on documentary media and historical transformations. The seminar will consist of five two-day conferences, with each conference addressing the relationship between documentary and a major historical transformation (colonialism, civil rights, neoliberalism, Arab Spring), and examining how documentaries both reveal and shape sociopolitical change.
In August 2018, the center will host the Visible Evidence International Documentary Conference, the leading conference on documentary in the world. It also will have a vital Web presence, including assuming responsibility for the Visible Evidence community website and listserv.