Powell recounts decade-long book research process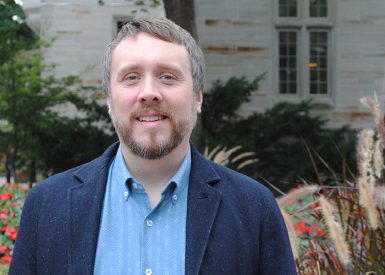 Assistant professor Ryan Powell spoke at Friday's research colloquium about the decade he spent researching his new book, "Coming Together: The Cinematic Elaboration of Gay Male Life, 1945-1979."
He began the research as a doctoral student. The book's 10-year evolution included methodological adaptations as Powell narrowed his focus.
"It just kept surprising me, which was an exciting process to go through," he said.
He said he started with ethnographies and interviews with audiences and filmmakers. Then, he focused more on archival research, both in formal archives and libraries and in old bookstores and private collections.
Powell told a story of finding an old videotape in a used bookstore, which ended up being what inspired his book. The tape was gay porn, but the fascinating aspect, Powell said, was that the film was narrative-based and even included a scene of a man on the phone coming out to his mother.
Instead of being a one-off, Powell realized that these types of films were more common than he anticipated.
"What I was seeing over and over was all these robust and vital questions of gender and sexuality in the films," he said. "The central question became, 'How were these films envisioning gay life?'"
Ultimately, he decided to focus his project on the films themselves.
"A (pivotal) deciding moment happened, when I was like, 'Nobody has seen these since they were in theaters,'" he said. "Part of what I wanted to do was functional — I wanted to introduce these films as topics to study."
The book describes the content of several of these films and looks at them through a cultural lens. The goal, he said, was to facilitate other people's interest to continue studying them.
"The result was, I think, a book that seeks to introduce a dozen or so films, but in doing that, it's framing a body of other films," he said.