Portrait of the teacher as an artist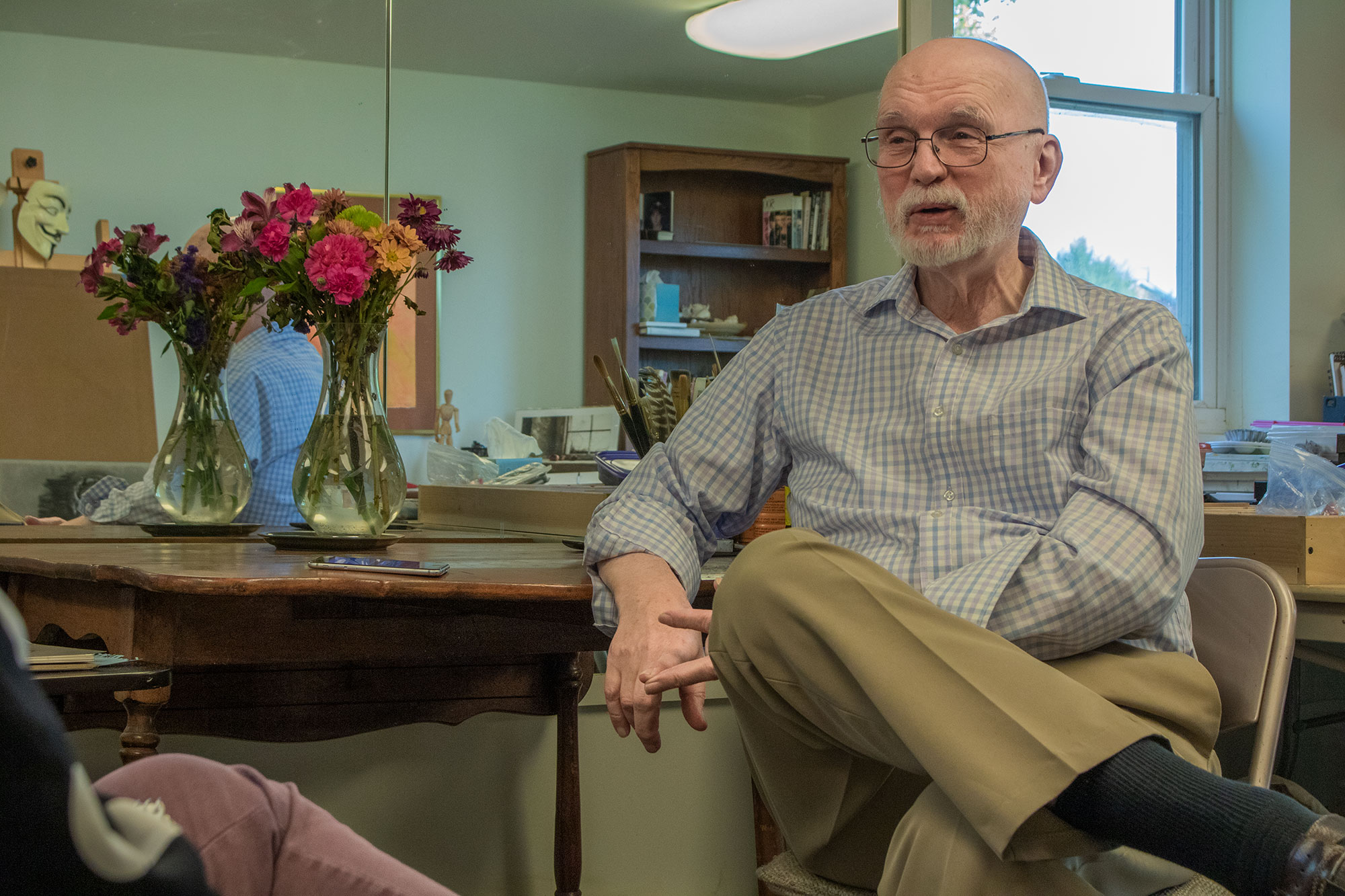 The artist adjusts the red IU ballcap resting on his head as he stares down his opponent.
It's Friday morning, just days before fall finals week begins. Light pours in and out of the Indiana Memorial Union south lounge like godly sneezing. Most of the 50-some students inside appear to be studying. Some occasionally perk up their heads to stare at the artist situating his easel and donning his apron over a plaid button-up shirt.
The artist either doesn't notice them or chooses to ignore them. He needs to focus. Today he isn't working with his usual pastels, but charcoal. He's not a novice, but there is still much for him to learn, he says. But that's alright.
"I believe the process is more important than the finished product," he says.
Professor emeritus Claude Cookman has dedicated himself full-time to creating art since his retirement from teaching visual communication in 2014. He has led a life and career that has taken him to publications across the country and locations all over the world. He studied the classics, served in Vietnam, hung out with Henri Cartier-Bresson and influenced thousands of college students.
But now his vision is narrowed in on his craft, constantly trying to improve himself as an artist, whether it be through painting, drawing or photographing. And today, he faces another fight in a string of battles of creativity.
His opponent takes the form of a bust of Wendell Willkie, IU law alumnus and 1940 Republican presidential nominee. Born in Elwood, Indiana, he grew up only about 20 miles from Cookman's hometown of Anderson.
"I feel a connection to him," Cookman says.
He begins placing blue strips of tape on the ground, where he eventually rests the legs of a large easel. He takes a couple sips of coffee from his thermos, never breaking eye contact with the bust, like a matador sizing up the toro waiting for him in the ring. But will it be a Miura or a Ferdinand? After about a minute, Cookman reaches for his tools and mutters to himself, "OK, we can start."
***
When he was in third grade, Cookman's teacher told him he drew the lips on a person too big. For many years, this discouraged him from drawing.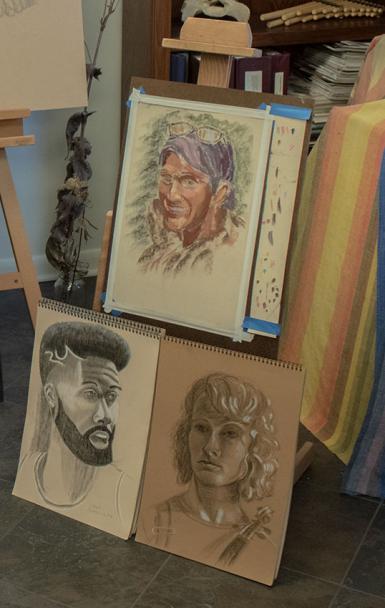 In 1965, he graduated with high honors from Wheaton (Illinois) College, where he studied classical Greek and minored in philosophy. This will come as no surprise to those who spend time with Cookman, who is bound to begin talking about or even quoting from ancient philosophers, thinkers and artists like French sculptor Auguste Rodin.
During college, he once again attempted to take up drawing, but after much frustration, he gave up.
Following graduation, he took up a brief job in his hometown as a reporter and photographer for the Anderson Herald – known today as the Herald Bulletin – before being drafted into the military. After a few years in the Army, which included a year-long tour in Vietnam, he returned to his job at the Herald. In 1971, he completed his master's at the Graduate School of Journalism at Columbia University, where he specialized in magazine writing.
Cookman's photojournalism career began to take off. Following graduation, he was immediately appointed picture editor for the New York bureau of the Associated Press. The offices were located at 50 Rockefeller Plaza, just across from a statue of Prometheus, the Greek god often associated with molding the human race from clay like a sculptor. During his tenure as picture editor, in his free time, Cookman "haunted" art galleries and museums and "devoured" art found lining the New York City streets.
Following his job with the AP, he worked several jobs at the Herald-Journal in Syracuse, the Louisville Times, the Miami Herald and then again in Louisville at the Courier-Journal. These jobs included editing for pictures, graphics and copy.
During this period, Cookman allowed himself to expand his artistic palette beyond the camera and the pen by taking more than 45 hours of post-baccalaureate courses in art history and French at the University of Louisville. In 1989, he received his Master of Fine Arts from Princeton University. He studied art history with a concentration in the history of photography.
After moving back to Bloomington in 1990, he decided once more to take up drawing, this time with his two sons, Alex, then 4, and Colin, then 6, on large butcher paper he bought from Kroger. They would do this most nights after dinner on the kitchen table.
"I did not want them to become discouraged about drawing, and they both continued it through high school," Cookman said.
In 1994, shortly after mailing his dissertation on Henri Cartier-Bresson — the French photojournalist who taught candid photography to the world — he went to the John Waldron Arts Center in Bloomington and signed up for a drawing course.
Bresson, also a drawer, invited Cookman to spend a week with him at his summer home in Province. Together, they spent several afternoons drawing many of the neighboring hills and medieval villages. Cookman said Bresson's love for drawing was "contagious."
"He liked to say that photography was like a quick sketch, but drawing was like a meditation," Cookman said.
Now, it was time for Cookman to meditate.
***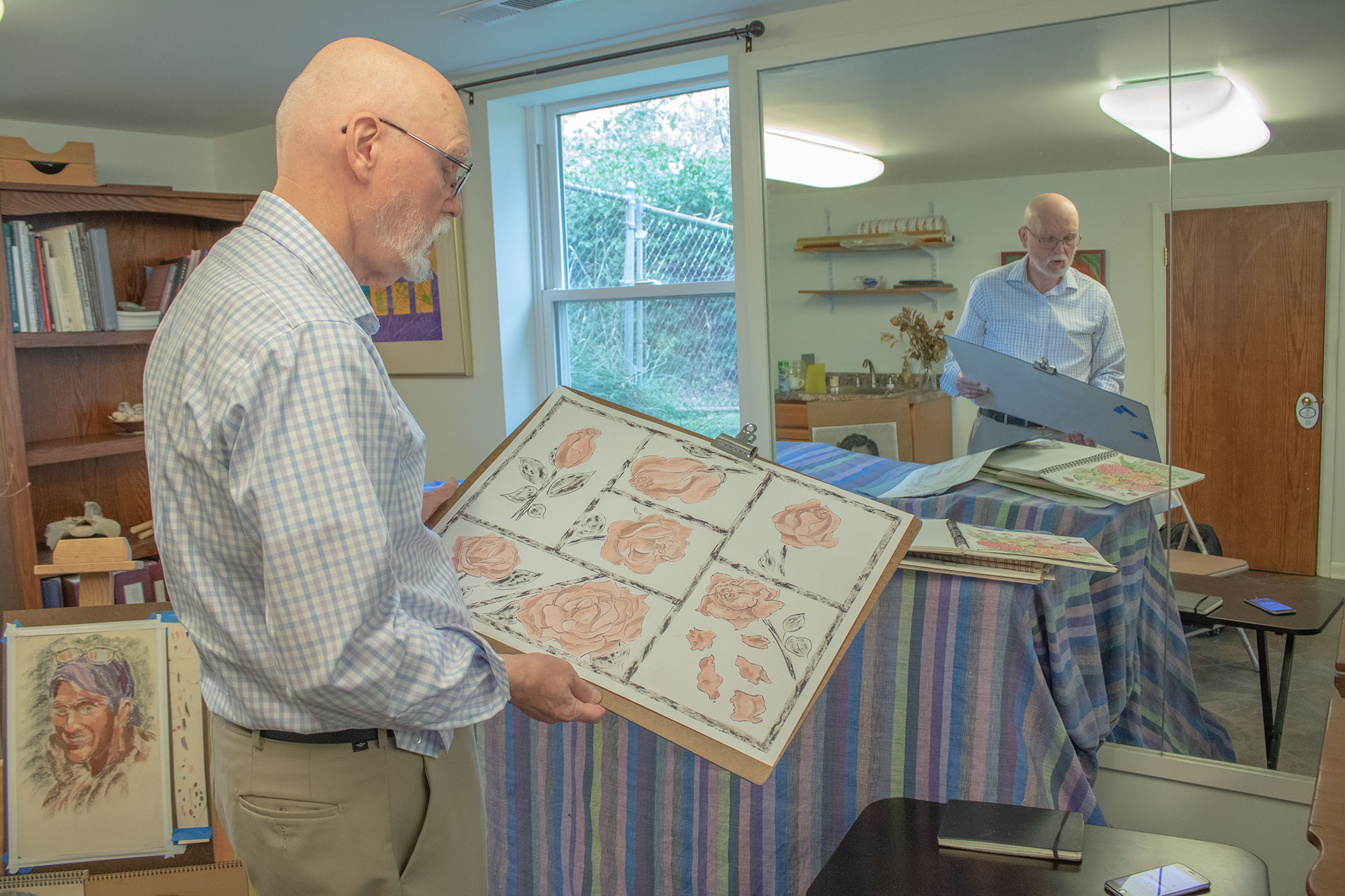 No more diddle-daddling. The beast is waiting, and the only way to kill it is through one precise sketch.
But where to begin? That is the age-old question for all artists. A sculptor may start with the feet and build his way up the body. A detective may ask where the suspect was at the time of the incident. A boxer may begin with a simple jab. Often, the possibilities are many.
Not in this case. Like any good science or study, drawing has a formula if you want to do it precisely. In this instance, Cookman was going to begin with a gesture sketch. The point of this is not to capture all the minute details, but to capture an overall feel of the image he is trying to portray. He compares it to a quick sketch someone might make in a notebook.
"Maybe if you go fast enough, and you're not thinking, you get over on that right side, and maybe something good happens," he says.
"Gesture" probably is an appropriate word for it too. It only takes a few minutes, and he only outlines the absolute bare minimum of the bust – a borderline, two lines proudly vertical in the center, two dots branching diagonally above, an oval floating near the bottom center, a half-moon blossoming off the right side. It's that hazy half-image a person falling asleep sees before the lights go out.
Once he's done, he almost immediately restarts with a second gesture sketch, this time using the vine charcoal he brought with him to sketch out more precise details. The sleeper is reawakening.
Cookman's right hand moves quickly and seamlessly, while his other hand rests on his hip, a look of confident concentration masking him like a seasoned composer.
Suddenly, Cookman steps back. He stares intently for a moment and then begins to tsk. He says, as expected, the sketch isn't going in an ideal direction. But he came prepared. He takes out a tissue and simply brushes over the drawing, leaving behind a shadowy suggestion, an artistic apparition that gives him just enough of an outline to allow him to fill in the gaps, lines and emotions he envisions.
For his next sketch, Cookman gives the smaller details of Willkie's face the utmost care. More obvious lines are woven into the ghost, suddenly making it much more transparent and akin to a traditional drawing, as opposed to an image one may see during a state of sleep paralysis. It appears to be coming together, though Cookman points out that the face is still too cluttered. Once again, he wipes over the image with the tissue and tries again.
As he's doing this, he explains that he's applying the ideas of Gestalt psychology to this piece. Gestalt psychology deals with human perceptions and how to control them in a seemingly chaotic world. For Cookman, this idea seems to be the center of how to create art.
"Its basic idea is that we see totalities, we see perceptions," he said in a previous interview. "But if you want to be a good photographer, if you want to be a good graphic designer, if you want to be a good artist, you have to see parts instead of the whole. You really have to break it down and pay attention to things that most people glance over or tune out."
He's drawing the piece from the angle he is standing, how he literally sees the bust in front of him. Thus, this will exclude features on Willkie's right side, including his right ear. Symmetry is not his primary concern.
"Our perception is not our sensation," he says.
So he has to work with what he is given, and shapes become the most important. Willkie's nose serves as the module for the whole drawing, as all proportions will be based in relativity to his nose.
Cookman compulsively measures the whole time he's drawing, making sure he is staying as true and accurate as he can to the bust's features. The journalism background is steadily creeping back in.
"We all are students of the human face," he says.
Cookman believes the eyes and lipline reveal the most character in a drawing. He wants to capture not only how accurate Willkie's face is, but how we perceive his face emotionally when walking by.
One could almost see the emotions come to life on the easel as Cookman draws it. The smile on the bust has less expression than its drawn counterpart.
***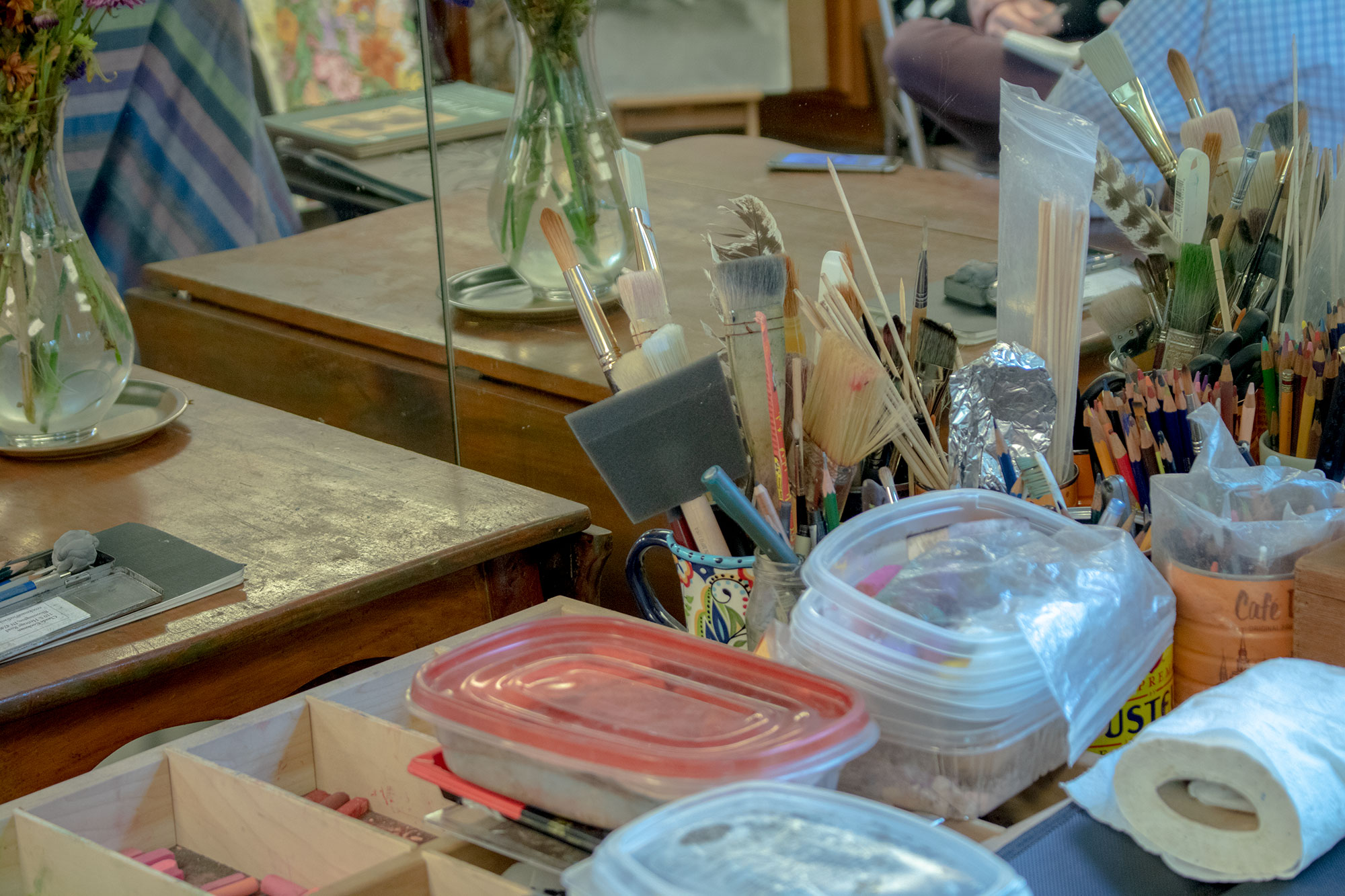 The studio of Claude Cookman, situated within the garage of his home, is less of a workplace as it is a menagerie of painter's prospects.
There's no lack of standard studio accessories like coffee cans filled with pencils and brushes, and bookshelves overflowing with works on art history and gallery books.
But it's also where he keeps a Guy Fawkes mask he used to wear to classes on Halloween, a feather pen, a plastic skull, a small stone gargoyle, an assortment of seashells, various bones, a single deer antler, a vase of dead flowers, a vase of living flowers, indigenous American panpipes for his musician son Alex, a statue of a gazelle and elephant that were gifts from Kenya, a large mirror, a small vanity and – what's this over here by the door? – roses painted with blush and mascara.
When it comes to his art, Cookman doesn't concern himself with creating overly abstract or complex images. His work can be narrowed down to three subjects.
One of his favorites is flowers, which make up most of the work within his studio, such as the roses painted with makeup. He also enjoys drawing the human figure, particularly the nude human figure, which he practiced weekly last semester in a course. And finally, still life comprises most of his drawing. His wife, Joyce, a devout Chicago Cubs fan, recently turned Cookman into a fan of the team as well. During commercial breaks of Cubs games, he draws the ingredients to the food he is preparing for dinner before he cooks it.
Currently, one of his primary influencers is the contemporary pastellist Dawn Edwards. Pastel is Cookman's favorite medium to draw and paint in. The beauty of it for him comes from its versatility, saying that one could use it "when in a drawing mood or when in a painting mood."
As a professor, Cookman brought his love of art into the classroom. He said he often tried to fuse as much art and art history as he could when teaching photography, believing this would help his students not only understand the medium better, but be better at it.
"My courses were about helping people see more deeply, and that has informed the way that I make art, as well, trying to see whatever is in front of me in a deep way," he said.
In fact, Cookman blended so much art into his courses that he remembers a student once including the comment "This was an art course!" in his course evaluation for J210.
"He didn't mean it in a complimentary way, but I thought that was great," Cookman said.
Since his retirement in 2014, he has had more time to dedicate himself to his art. And he isn't wasting any opportunity.
***
At this point in the drawing process, Cookman knows his fingers and a tissue are no longer going to be adequate. It's time to bring out an eraser. But the eraser's bad reputation is unwarranted, he said.
"The eraser is a drawing tool," he says. For this drawing, the eraser, specifically called a kneadable eraser, is used not to "cover up mistakes," but simply lift the highlights he already sees on the bust, particularly in the nose and right cheek.
Everything else on the drawing is covered in thick charcoal shadow. In fact, Willkie looks like he just stepped out of a West Virginia coal mine. This will all be toned soon.
In the midst of this, a new figure steps into the scene: a man in an IU staff polo. But instead of passing by like most of the casual spectators in the room, he greets Cookman.
The man is local artist and IU custodian Joel Washington, responsible for paintings of musicians displayed all over Bloomington, such as Jimi Hendrix, Frank Zappa, B.B. King and Wes Montgomery, the latter currently hanging in the IMU.
The two chat for a couple minutes about work and the weekend. Cookman mentions that he would like to get some B-roll of him, and Washington tells him to send him an email. They part.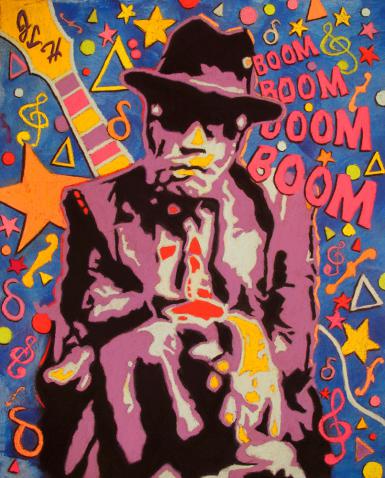 Cookman recently completed a tribute piece to Washington's work with his own painting of Delta blues singer John Lee Hooker. This piece was done with pastels over a gauche-base layer, a step away from the acrylic that Washington is known to use for his paintings.
The piece exemplifies Cookman's "playful, experimental side," said Nancy Metz, a local artist and former Bloomington Watercolor Society president. Metz and Cookman have known each other since they were both teaching for the School of Journalism. When they discovered they were both artists, they would periodically share pieces they were working on and discuss their tactics and discoveries. They are both enthusiastic fans of each other's work.
"Claude's art, I believe, combines this serious approach and a bit of playfulness," Metz said. "He strives for mastery but isn't a slave to it. He finds creative ways to combine his many art skills."
This painting is part of the mixed-media exhibit "We Paint… the Blues!", which features about 40 paintings by members of the Bloomington Watercolor Society and runs through Thursday at The Vault at Gallery Mortgage.
Cookman's tribute won "Best of Show."
***
The artist checks the time, his opponent – now much weaker than at the beginning of the battle – just out of the corner of his eye. It's half past noon. He's about done for the day. The struggle will continue at a later date.
And it does. And the artist, as always, surmounted his charcoal challenger.
The final product, which took about eight to 10 hours to complete, is unmistakably a drawing of a bust, not of a human person, yet somehow livelier and more animated than the original.
Perhaps this is what one would expect from a Cookman piece. The artist too carries that unwavering lust for life.
"I think there are a lot of myths about how old people shut down," he said. "But I feel more creative than I ever have in my life right now, and I'm just having so much fun doing this."