People who distrust democracy more often believe false narratives, study finds
For immediate release:
Dec. 10, 2020
BLOOMINGTON, Ind. — "Democracy is preferable to any other kind of government." That's one statement researchers used to gauge democratic values of participants in the last in a series of studies about the impact of false narratives related to the 2020 presidential election. The results of the survey, conducted by IU's Observatory on Social Media, showed those with a greater trust in democracy were much less likely to believe such untrue narratives.
The new study shared five false stories about the election with more than 1,100 participants. The latest wave of data collection, from Nov. 18-27, contained two stories tracked in the previous five studies and three new narratives: "Vote-counting machines overcounted the Biden votes," "News media called the election for Biden too soon, and had to take it back," and "The number of people who voted is higher than the number of eligible voters."
About 50% of participants said they were aware of these new narratives. About 50% believed that more voters voted than were eligible; 44.9% thought news media had called the election too soon; and 43.3% believed vote-counting machines had been biased in favor of Biden.
The narratives continued throughout the series of six studies were about Joe Biden's mental fitness and about mail-in ballots resulting in election fraud. Over the six studies, recognition of the Biden narrative ranged from 43% to 49.7%, with an average of 45.3% of respondents believing the story. Recognition of the mail-in ballot fraud narrative peaked at 66.5% in Wave 4, dropping to 59.7% in the final survey. An average of 48.9% of respondents believed this narrative. Research data for the sixth study can be found here, and results about other narratives included in Waves 1 through 5 are available in other reports.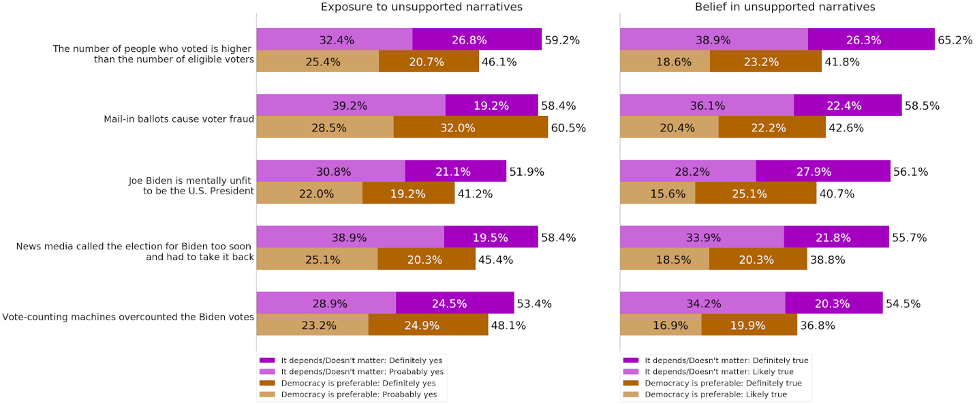 Those with higher trust in democracy were around 17.8 percentage points less likely, on average, to believe the false narratives, compared to those who expressed lower trust in democracy as a form of government. The difference was greatest for the narrative about more people voting in the 2020 election than were eligible to vote, with a 23.4 percentage point difference between the two groups.
However, differences in exposure to the narratives between the two groups of respondents were less consistent. In one case (mail-in ballots cause voter fraud), respondents who more highly valued democracy tended to express slightly greater exposure to the narrative than those with lower trust in democracy. Despite high awareness of the narrative (60.5%), participants who value democracy seem less likely (42.6%) to believe that mail-in ballots caused vote fraud.
In addition to querying participants' trust in democracy, the new study also looked at their political affiliation and its impact on survey responses. The unsupported narratives were  believed more frequently by supporters of President Donald Trump and Vice President Mike Pence than by supporters of President-elect Joe Biden and Vice President-elect Kamala Harris.
OSoMe is a joint project of the IU Network Science Institute (IUNI), the Center for Complex Networks and Systems Research (CNetS) at IU's Luddy School of Informatics, Computing, and Engineering and The Media School at Indiana University, with support from the Office of the Vice Provost for Research at IU Bloomington. It is funded in part by support from the John S. and James L. Knight Foundation, a nonprofit focused on fostering informed and engaged communities.
About IU Research
IU's world-class researchers have driven innovation and creative initiatives that matter for 200 years. From curing testicular cancer to collaborating with NASA to search for life on Mars, IU has earned its reputation as a world-class research institution. Supported by $854 million last year from our partners, IU researchers are building collaborations and uncovering new solutions that improve lives in Indiana and around the globe.