Peifer study: Satirical content may find greater engagement through traditional news outlets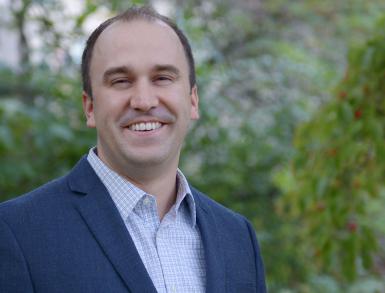 Traditional news outlets who publish satirical content risk undermining reader trust, but may experience greater engagement with this content than satirical outlets, according to a study published by assistant professor Jason Peifer.
"Risky satire: Examining how a traditional news outlet's use of satire can affect audience perceptions and future engagement with the news source," co-authored by Jessica Gall Myrick of Penn State University, formerly of The Media School, appears in the latest issue of Journalism.
The online study exposed subjects to an actual Boston Globe satirical series that imagined a presidency under then-candidate Donald Trump. Some subjects were told it appeared in The Boston Globe, while others were told it appeared in The Onion.
The study finds that the legitimacy and credibility commonly associated with traditional news outlets can translate to a perception of its satire having a stronger influence on individuals than content published by satirical outlets. This perception can increase the likelihood of readers sharing the traditional news outlets' satirical content.
The study did not find the results to be contingent upon political affiliation.