Peifer study: Emotions hope and mirth are key to shareable parody content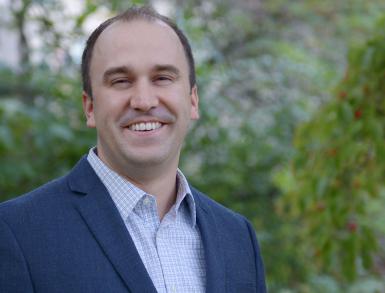 Parody content is more likely to be shared when it elicits the positive emotions hope and mirth, according to a study published by assistant professor Jason Peifer.
"Spoofing Presidential Hopefuls: The Roles of Affective Disposition and Positive Emotions in Prompting the Social Transmission of Debate Parody," by Peifer and Kristen Landreville of the University of Wyoming, appears in the International Journal of Communication.
The researchers studied responses to two "Saturday Night Live" skits from the Oct. 1, 2016, episode — one spoofing the first presidential debate between Donald Trump and Hillary Clinton, and another parodying a film festival actress roundtable discussing about women in Hollywood — and considered factors such as viewers' political orientations and prior exposure to the presidential debate.
The researchers found that viewers who had unfavorable opinions of Donald Trump (the primary target of the debate parody's humorous message) experienced greater feelings of hope and mirth — the positive emotion elicited by humor — when watching the debate parody rather than the Hollywood roundtable parody, and were more likely to share the content. Viewers with unfavorable opinions of Trump experienced similar levels of hope and mirth with both clips.