PBS's Judy Woodruff shares insight from lifetime of reporting
Judy Woodruff has received three lifetime achievement awards — not surprising for someone who has covered every presidential election since Jimmy Carter. But the "PBS Newshour" anchor and managing editor's career is very much still underway.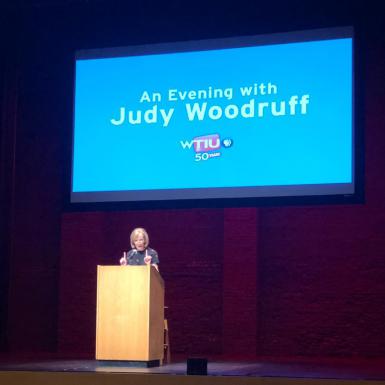 "When you get a certain number of lifetime achievements, it is definitely them trying to push you out the door," Woodruff joked. "I'm not quite ready for that."
This comment was met with uproarious applause and cheering at the Buskirk-Chumley Theater on Saturday evening when Woodruff gave a speech to celebrate the 50th anniversaries of both PBS and WTIU. The Media School was a presenting partner for the event.
Woodruff shared four decades' worth of experience with federal politics and broadcast work for NBC, CNN and PBS.
After graduating from Duke University in 1968, just a year before PBS and WTIU were founded, Woodruff began her career as a news secretary for then-ABC affiliate WQXI-TV in Atlanta.
She said it took a while for her employers to take her seriously as a female reporter. Reporting roles for women at the time were normally limited to weather, which Woodruff did on weekends for about six months, because her employer wouldn't promote her to news reporter.
"We already have a lady reporter," her boss told her.
Woodruff said her experience gave her a greater appreciation for the importance of diversity in newsrooms. She said it's the job of the press to represent all of America and tell as many stories as possible, which cannot be done when all the newsroom perspectives are homogenous.
Years later, Woodruff began working for NBC and covered the 1976 election of Jimmy Carter, which at one time was considered unlikely. When Carter won, it proved to be a turning point in Woodruff's career.
She continued working for NBC, still covering politics and other stories, before she began working for "PBS NewsHour" for about 10 years during the Ronald Reagan and George H.W. Bush administrations. After this, she moved to CNN to co-host "Inside Politics," "The World Today" and "CNN Worldview" with Bernard Shaw. In 2006, she moved back to "NewsHour," where she continues to work today.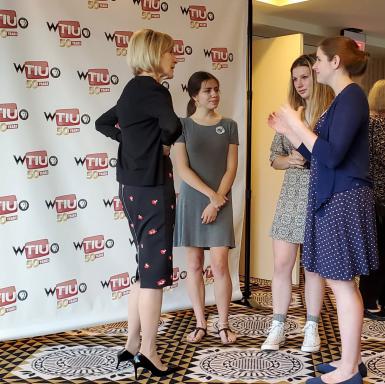 Much of Woodruff's speech focused on today's political climate and her thoughts on next year's presidential election. She also talked about rising animosity toward the press, citing declining trust in the news media, as well as President Donald Trump's February 2017 tweet that the "fake news media" was "the enemy of the American people."
"Nothing makes my blood boil more than that," Woodruff said. "It's not true. I am not the enemy of the American people."
However, Woodruff believes these sorts of remarks should not cause journalists to "get in contest" with politicians or the president. She said journalists should focus on their jobs of remaining accurate and holding these people accountable. She said this is the way to re-earn the people's trust.
"We are the eyes and ears of you, the American people," Woodruff said. "It's that basic."