PBS correspondent de Sam Lazaro discusses importance of 'under-told' stories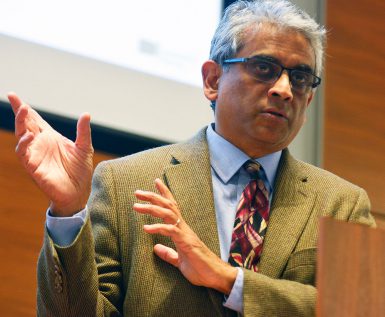 Growing up in India, PBS NewsHour correspondent Fred de Sam Lazaro learned a different definition of the word "foreign." To him, foreigners, especially those from America, were an object of fascination; they were the people who lived happily ever after.
But when de Sam Lazaro came to America in '70s, he experienced a culture that neither showed him hostility nor embraced him. And as he continued to grow in American society, he noticed that for a country with such a strong media presence, the concept of "foreign" was unfamiliar and, more noticeably, under-reported.
"The developing world suffered two very damning disadvantages," de Sam Lazaro said during a talk on campus Friday afternoon. "They were expensive to reach, and they were perceived as being too foreign and too irrelevant to the American audience."
The correspondent spoke about "Making the Foreign Less Foreign: The Under-Told Stories Project," in the Global and International Studies auditorium as a guest of school's spring Speaker Series.
De Sam Lazaro is no stranger to covering the developing world. He has served PBS NewsHour as a correspondent since 1985, where he has traveled to more than 62 countries, from Haiti to Pakistan. As director of the Under-Told Stories Project at the University of St. Thomas in Minnesota, he works with students in international reporting and media production to bring to the forefront stories of people whose voices are rarely heard.
These stories are featured on the NewsHour as well as the project's website.
"The NewsHour has a growing stable of people in various parts of the world that do extraordinary work," de Sam Lazaro said of his colleagues.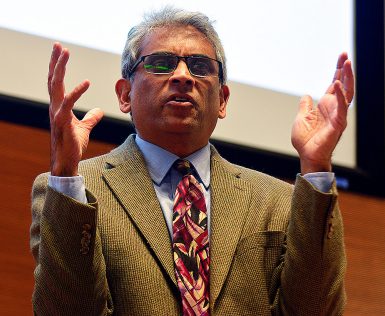 His own path to international reporting grew from his interest in what media was not covering. Amid the abundance of TV programming in the U.S. was a lack of coverage of developing nations, unless they were suffering natural disasters.
As a longtime reporter, de Sam Lazaro saw an increasing lack of trust of traditional media, most likely fueled by the Internet's abundance of faux news and one-sided reporting.
"When I was growing up, Walter Cronkite was the most trusted person in America," de Sam Lazaro said. "That is never going to happen for newscasters again."
To counteract these trends, de Sam Lazaro said he tries to regain trust through stories that dig deeper into issues in other countries, to go beyond the disaster coverage to help viewers better understand the cultures and politics.
"Amid all of this abundance of technology and information, have we improved our knowledge and understanding of the world beyond these shores?" de Sam Lazaro asked the audience.
He cited three categories of "under-told" stories that guide his focus, playing clips from his NewsHour pieces to illustrate.
"Whatever happened to…" stories revisit big news stories that have faded from headlines. He used the 2013 collapse of an eight-story commercial building in Bangladesh as an example. More than 1,100 died and 2,500 were injured, many garment workers who produced clothing for top Western brands. The follow-up story looked at how the lives of those seriously injured had changed due to their inability to work.
"Slow moving disaster" stories look at the permanent effects of natural disasters or hardships long after international aid assistance has come and gone. De Sam Lazaro used his report on the downward spiral in Haiti years after the country suffered a devastating earthquake.
The challenge with these kinds of stories, he said, and the reason for their lack of coverage, is that human suffering does not draw an audience. And, even news organizations are reluctant to keep revisiting what they think is the same story.
"In journalism, we don't cover the same story unless it's to gain another angle," de Sam Lazaro said.
"Solutions-oriented reporting" stories focus on people inspired to solve problems and, in doing so, improve the lives of others.
"What social journalism does is give us good stories about very charismatic individuals that have hefty ideas that they have brought to the field and have demonstrated some real success," de Sam Lazaro said. "This is social entrepreneurship that's catching fire among young people."
All three types of under-told stories reflect a central theme, he said.
"What we look for are stories that have strong character-driven narratives, make use of visuals and kinetics, stories that incorporate solution orientation, that are relevant, and, ultimately, stories that make the foreign less foreign," de Sam Lazaro said.
The correspondent took questions from the audience, which included professors, students and area residents.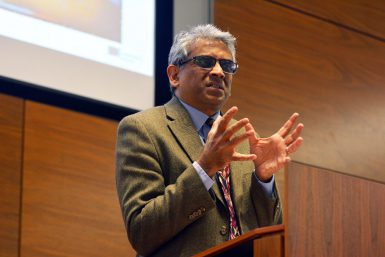 Professor Emeritus Jon Dilts said afterward that reporting such as de Sam Lazaro's is important to inform the public on stories from across the globe, both past and present.
"There is so much news that we hear that we forget so rapidly that it needs to be told and re-told," Dilts said. "Re-telling stories is an important thing, and it's a gift to be able to do that."
For Media School student Wenqing Yan, de Sam Lazaro's talk was of particular importance. A native of Beijing, she said American media need to cover the problems facing Chinese people and that international stories in American journalism, which is built on the concept of freedom, are crucial to the rest of the world.
"I think American journalism is much more honest and has more freedom to say what they want to say," Yan said. "I think it's a very good thing to impact reality."
The Speaker Series brings top media professionals to the area each semester for talks that are free and open to the public. The next speaker is Chicago Tribune editor Gerould Kern, who speaks at 7 p.m. Feb. 10 in the Ernie Pyle Hall auditorium.
More: