Paulson: 'First Amendment at core of who we are'
By Jonathan Hiskes 
USA Today editor Ken Paulson urged journalists to promote the importance of the First Amendment, concluding the School of Journalism's Fall Speaker Series Wednesday night.
He cited a Knight Foundation survey that found 40 percent of American high school students think the First Amendment provides too much freedom. He reminded the Alumni Hall audience that, in 1791, the states refused to ratify the Constitution without the freedoms guaranteed in the First Amendment: to speak freely, to assemble, to petition the government, to practice religion and to have a free press.
"These are freedoms we can't take for granted," he said. "We do the First Amendment a great disservice when we think of it as a dusty historical document we can forget about after the fourth grade. The First Amendment goes to the core of who we are as a people."
Paulson helped launch USA Today in 1982, spent seven years directing the First Amendment Center at Vanderbilt University and returned to USA Today as editor and senior vice president for news in 2004.
During his talk, "From Superman to Subpoenas: Defending a free press," he spoke of the marketing campaign he is organizing to teach Americans about the First Amendment. He has enlisted journalists, musicians, lawyers, nonprofit leaders and the advertising people behind the "Got milk?" campaign. The First Amendment needs a catchy slogan like that, he said.
"The First Amendment was the iPod of 1791," he said. "That's the last time it was trendy and new. In the marketplace of ideas, sometimes you need marketing to be heard."
His talk bore the upbeat tone for which his newspaper is known. He retold the final scene of the 1952 film, "Deadline USA," in which Humphrey Bogart plays an editor standing up to a mobster. The public image of journalists has not fared well since then, Paulson said.
"If you look at television and pop culture images, they're full of unethical, invasive and sleazy journalists," he said. "But it wasn't always that way."
He pointed to 20th-century comic book heroes to make his point. Superman's alter ego was earnest reporter Clark Kent. Spiderman's alter ego was news photographer Peter Parker. The Green Hornet's alter ego was crusading editor Britt Reid.
"That was how natural it was to align the profession of journalism with fighting crime, with public service and with doing good deeds," Paulson said.
To reclaim that image, journalists should provide greater accountability, he said. He encouraged them to use fewer anonymous sources, disagreeing with the advice Watergate reporter and Washington Post editor Bob Woodward gave here in September. On his watch, USA Today reduced its use of anonymous sources by 80 percent, Paulson said. News outlets should print corrections more consistently and invite reader feedback more often, he said.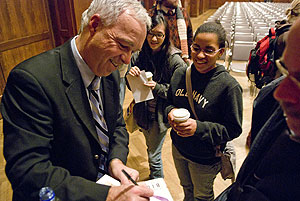 "Sometimes it's as basic as getting your facts right," he said. "People will not trust us on Iraq if we can't spell the name of the local elementary school right."
Paulson may not have brought the same name recognition as the first two Speaker Series guests, Woodward and Lisa Ling of National Geographic's Explorer, but he wields influence as editor of the nation's most widely circulated paper.
His talk focused more on broad journalism issues than on running USA Today. When the paper began, some criticized it as simplistic and overly positive. But the media coverage of its 25th anniversary this fall largely declared that it had grown into a respectable paper. Paulson did not address either the criticism or the praise, but he seemed to keep the audience engaged, even those whose instructors required them to attend.
"I had to go for class, and I had no idea who he was," said junior Rachael Pettiford, a sports marketing major. "But he was pretty insightful."
"I liked him," said junior Allison David, a journalism major. "I guess I had never really stopped to think about what he said about the First Amendment."
While in Indiana, Paulson also planned to speak Thursday to the Indiana Coalition for Open Government, which co-sponsored the Wednesday night talk.
"I know of no editor in this country who works harder to educate Americans about the First Amendment, or who urges journalists more to do the same," Indianapolis Star managing editor Pam Fine said in introducing Paulson at Alumni Hall.