Paul continuing research for Hot Girls Wanted projects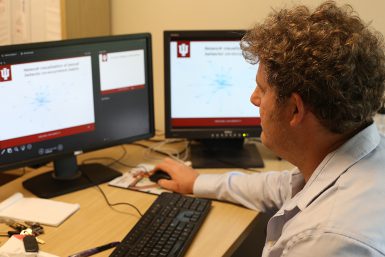 A new Netflix series has its roots in a documentary that tapped into the expertise of several IU professors, including Media School associate professor Bryant Paul.
Hot Girls Wanted: Turned On, which premiered in April on Netflix , expands on the 2015 documentary Hot Girls Wanted. Both explore how young women are drawn into the sex trade, including pornography.
Paul and IU School of Public Health associate professor Debbie Herbenick were among the producers of the original documentary, which debuted at the Sundance Film Festival in 2015. Paul's area of research interest is sex and the media and social and psychological effects of pornography. Herbenick focuses on how contemporary men and women experience their sexual lives. She also is director of the Center for Sexual Health Promotion at IU's Kinsey Institute.
For the documentary, the two worked with directors Jill Bauer and Ronna Gradus to give context to the project through their data and research. Data, Paul said, also was key to the series.
"It ended up reinforcing a lot of the ideas that they had in the first documentary, and as it got closer to release, they asked me if I wanted a co-producers credit. I couldn't turn that down," he said.
The project relied on organizations' donations to fund some of the research, which included surveying 4,000 people, ages 19 to 60 years old, and 600 of those people's children. Researchers asked about their sexual media habits and their sexual attitudes, beliefs and behaviors.
This data contributed to the shape of the series, which is driven by sex and technology in the digital age. Paul said the team continues to analyze the data.
The series is made up of six episodes, each one focusing on a different topic that was introduced during the original documentary.
For example, one episode exposes racism in the porn industry through the stories of two black actors. Another follows a man who lives in his parents' basement and whose only relationships are through "cam girls." He buys gifts for them and talks to them online, and he believes these are his only acceptable form of relationships.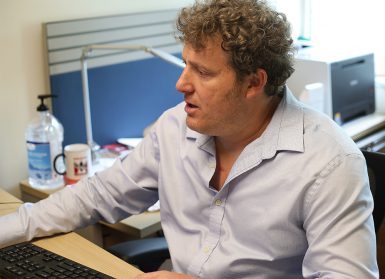 "That's what's so amazing about what these women do, they don't judge," Paul said of the two directors. "When Hot Girls Wanted came out, we were criticized. Some said we made the porn industry look fun.  Some said we made it look absolutely terrible."
Still others criticized the film because it didn't offer perspective or opinion. To Paul, the feedback was valuable.
"That's exactly what you want, because the truth is, that is a honest depiction about how that industry works," he said.
Bauer and Gradus are former journalists from the Miami Herald brought their objectivity to the projects, Paul said. They gathered information, including tapping into Paul's and Herbenick's expertise and research, presented the story and let people form their own opinions
That is why they looked to sexuality professionals at IU for help and affirmation, he said.
"Debbie and I put together the questionnaires and gathered data," he said, and the two still are analyzing results. "Our next step is to create some porn literacy videos.  That's where we want to take this."
More: