Partnership with Ukrainian university continues despite war
Faculty members from The Media School and other IU departments maintain communication through Zoom with Ukrainian academics for a state-funded partnership despite barriers posed by Russia's invasion of Ukraine.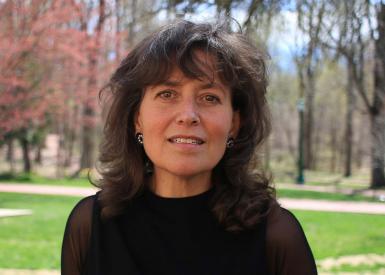 In collaboration with the O'Neill School of Public and Environmental Affairs and the College of Arts and Sciences' Office of International Affairs, The Media School entered a partnership with the National University of Kyiv-Mohyla Academy in Ukraine four years ago. The partnership started when the U.S. State Department awarded IU a grant of just under $1 million in 2018 to implement academic programs in government communications for Ukrainians.
While the COVID-19 pandemic suspended travel residencies and research discussions with the university in Ukraine, online communication has remained vital to the work between IU and NaUKMA, said Media School professor and co-principal investigator Betsi Grabe.
"Our partners in Ukraine have successfully implemented a Master's of Public Administration," Grabe said. "And we worked together on the syllabi for all the courses."
In addition to a master's program, NaUKMA also developed an online program for working professionals and started a certificate program for undergraduates.
Grabe said a meeting with partnership collaborators at IU's gateway in Berlin was planned for February, but was canceled due to Russia's invasion of Ukraine on Feb. 24.
"Our partners cannot get out of the country," she said. "They are all displaced. Most of the men stayed in Kyiv, but I do know that the women are in the countryside. There is a mountainous area in Ukraine where most of the female team members are living."
Despite the displacement of partners, IU faculty members continue to host biweekly Zoom meetings for the Ukrainians to attend.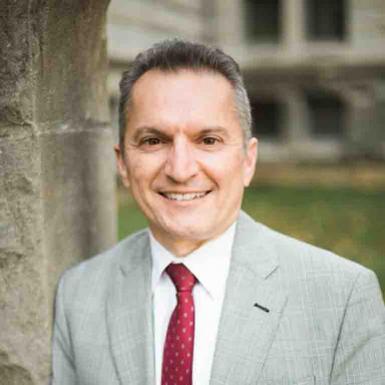 "Our main contact was able to attend last week," said Russell Valentino, a professor in IU's Department of Slavic and East European Languages and Cultures who serves as co-principal investigator with Grabe. "They are keeping us up to date with how things are going, but it's mainly just about their lives at this point."
The partnership has managed to achieve its goal of helping Ukrainians seek out graduate programs to help build their own national identity, but research projects remain suspended until conditions in Ukraine are stable.
"It's hard to do research on refugees when you are trying to help refugees," Valentino said. "At this point, everything is on hold while we watch and try to be supportive in case they need to get out of the country."
The partnership collaborators from IU hope to connect with partners in Ukraine in person as soon as conditions ease and travel is viable.