Partnership puts coursework in front of USA Today Network audience
A partnership between a Media School journalism course and the USA Today Network will allow students to publish work in some of the company's 261 publications.
Professor of practice Kelley French, who joined the network in August as senior editor for narrative and special projects, secured the partnership for her Story Mechanics course. In addition to publishing opportunities, the partnership also provides guest speakers and professional editing resources.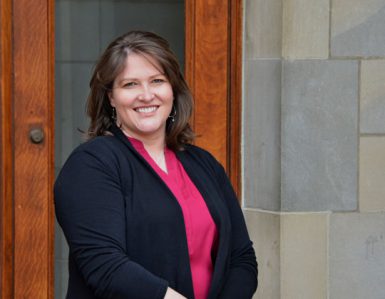 "After I took the job, I started thinking, 'How could we find a larger audience for our students' work?'" she said. "And I kicked around ideas with some of the editors at USA Today, and we came up with this partnership class idea."
The IndyStar published senior Christine Fernando's story, "IU GPA calculator gave students access to other students' GPA, grades" through the partnership Tuesday. The story exposed the university's apparently accidental violation of the Family Educational Rights and Privacy Act.
Most of the stories produced in the class will be tailored for the Star, but French said some reporting may be of interest to other markets. She said her students have always reported statewide, including Indianapolis, Evansville, Louisville, northern Indiana and rural areas.
"I always have encouraged them to think about the big idea inside of a story," French said. "How can we tap into important national themes and be a part of national conversations? No story has to be a small story if it's part of something that matters."
The students pitch story ideas to French, who then pitches them to the appropriate editor within the network.
"What's most exciting about it is we have this heavy infusion of experts' feedback and interest in our program and a much bigger platform for our work," she said.
Alvie Lindsay, IndyStar news and investigations editor, will work with the students and respond to their story pitches. Chris Davis, USA Today executive editor and vice president of investigations, will lead an interactive workshop taking students from a breaking story to a major investigation. The company will provide eight guest speakers throughout the semester.
"We want to be a part of training the next generation of reporters, especially investigative reporters," Davis said. "And we're very excited to have those reporters uncovering stories in the communities we cover. This is an opportunity to do both of those things."
The partnership will give students hands-on experience and skills to further elevate their reporting and writing.
"I've always said student journalists are journalists," French said. "We're not just teaching in the abstract here. We are producing professional-level journalism."