Parameswaran, Rao essay explores Hindu names in presidential election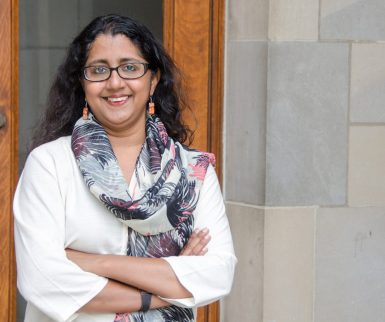 Democratic presidential contenders Kamala Devi Harris and Tulsi Gabbard both have recognizable Hindu Indian female names, but their ethno-racial self-identifications indicate a new demographic terrain of social identity, Herman B Wells endowed professor Radhika Parameswaran and doctoral candidate Pallavi Rao argue in a recently published essay.
"From Lotus Goddess to Holy Basil: Transnational Racio-scapes in US Presidential Politics," appears in the weekly publication global-e.
Parameswaran and Rao explore how the first and middle names of Kamala Devi Harris and Tulsi Gabbard factor into their social identity. Kamala Devi, which means "lotus goddess" and Tulsi, which means "holy basil" are names with sacred connotations for Hindu voters.