Parameswaran co-edits special issue forum for ICA journal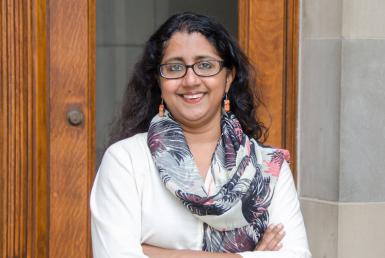 Associate dean Radhika Parameswaran's co-edited special issue forum, "Digital Cultures of South Asia: Inequalities, Informatization, Infrastructures," was published in the September issue of Communication, Culture & Critique, an official journal of the International Communication Association.
The special issue features an introductory essay co-authored by Parameswaran, Denison University's Sangeet Kumar and Northwestern University's Kalyani Chadha, followed by 10 essays that cover topics ranging from right-wing politics to environmental activism, censorship and anti-caste politics.
The issue was co-edited with Chadha and Kumar. It features an essay by Pallavi Rao, PhD'21, who is now an assistant professor at the University of Virginia, titled "Democratizing the Op-Ed: Anti-Caste Counterpublics & the Mainstream News."
The special issue grew out of an ICA 2020 preconference that Parameswaran co-organized with Chadha and Kumar. Rao served as the virtual pre-conference assistant, and Roshni Verghese, MA'13, PhD'19, was the pre-conference coordinator.