Panelists advocate for diversity in PR industry
To best serve underrepresented minorities in public relations and communications, organizations must approach diversity as more than simply checking off a box, said a group of panelists at The Media School on Friday.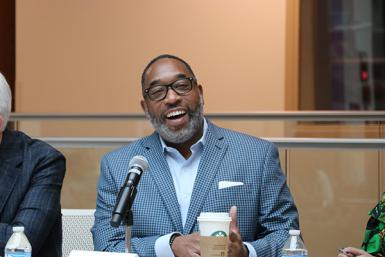 "Diversity is about fairness and respect," Marvin Hill, national public relations manager at Humana, said. "You have to take the time to get to know your customer, your coworker, your neighbor. You can't assume you know them. In many places, people don't take the time."
Hill and other members of the communications industry spoke at "Diversity is the Future," a panel discussion hosted by members of the Beth Wood Chapter of the Public Relations Student Society of America competing in the national Bateman competition.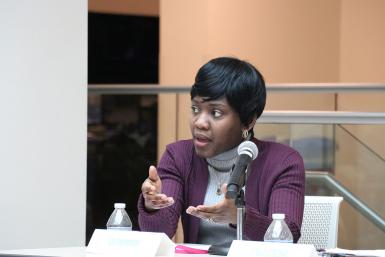 Panelists discussed their career paths, the importance of education and advocacy, the benefits of a diverse workforce and the value of intentional diversity and inclusion. They also offered advice to minority students seeking a career in communications.
"Beyond mentorship, sponsorship is incredibly important – someone who can advocate for you behind closed doors," said Gene Ford, manager of public relations at St. Vincent and chair of diversity and multicultural affairs for the Hoosier chapter of the Public Relations Society of America.
Panel participants included:
Chantée Eldridge, NCAA director of organizational communications and outreach
Gene Ford, manager of PR at St. Vincent, chair of diversity and multicultural affairs for Hoosier PRSA
Marvin Hill, BA'89, national public relations manager at Humana
Steve Corona, BA'75, founder of Corona Consulting LLC
Esi Thompson, assistant professor, The Media School
The team is continuing its initiative on its Twitter, Instagram and Facebook pages.